We've seen lots of young talent in the NHL over the last few years with superstars coming straight out of their draft to being central figures on their pro teams. Today, I look at the 10 best U-20 seasons since 2016-17.
Criteria
The list is based strictly on the overall ratings from my model hosted on this website. All seasons from players who were 20 years old or younger for the majority of the season are considered in the model.
Overall rating is judged based on contribution in the defensive phase, in transition and in attack through passing and shooting. Performing well in more minutes is rewarded as well. This means that playing a high number of minutes exclusively won't give you a good rating, but good results in large sample sizes stand out. Due to this, players with good performances in limited minutes may be excluded as the model can't be confident enough in the results to separate talent from noise and therefore doesn't assign high ratings.
Now that that's out of the way, let's get into the results.
#10: Ivan Provorov, 2016-2017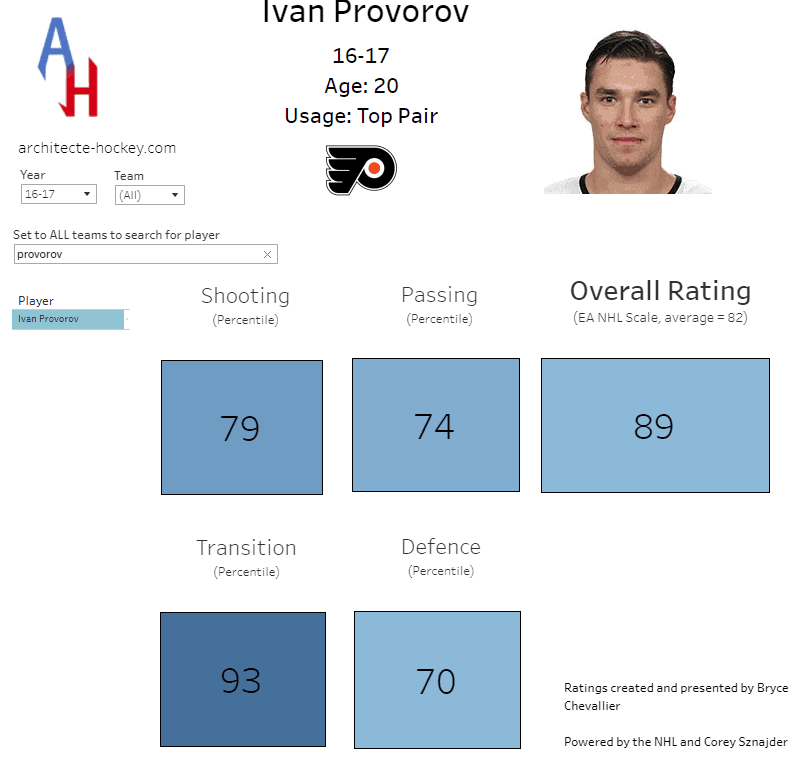 Provorov's rookie season didn't get tons of attention as he finished 9th in Calder voting. However, his great play with the Flyers going forward was there for all to see. He immediately slotted in as a top pairing guy and has one of the more complete profiles for a youngster. Even as a rookie, he had similarities to a prime Seth Jones. He couldn't defend the rush, but his excellent coverage combined with his skating and offensive support makes him the ultimate number one blueliner. He likely won't stand out, but if the Flyers become contenders, many will notice his rounded and reliable play in all areas.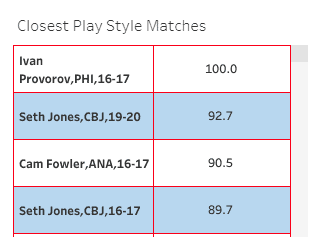 #9: Charlie McAvoy, 2017-2018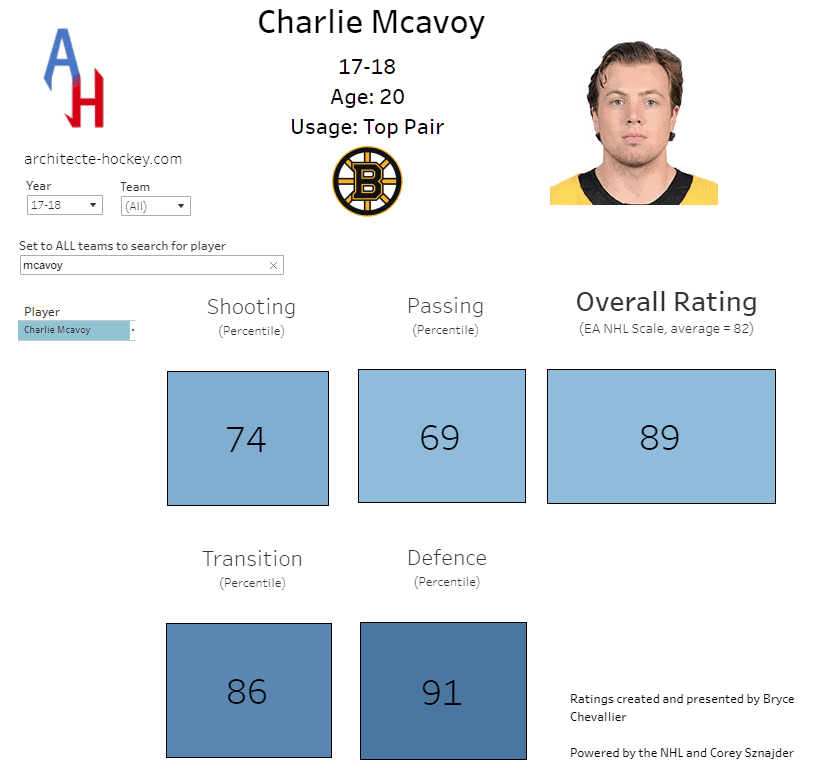 Charlie McAvoy has become one of the top defencemen in the game today and his play was on display right from his rookie season. His complete profile that we know of today, the one of the prototypical modern-day defensive defencemen with great defence and skating, has been his mould since that first season.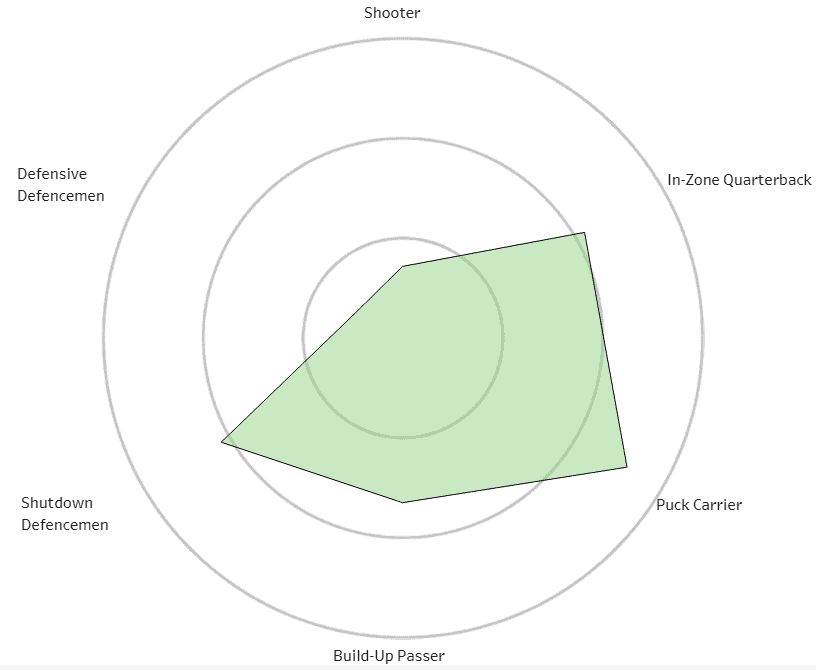 His style chart was less strong, but in a similar shape to what we see from him today. As a rookie, the most similar players to him were Jonas Brodin and Devon Toews, two of the best shutdown guys. Today, McAvoy kept that role and moved on into the elite category.
#8: Sebastian Aho, 2017-2018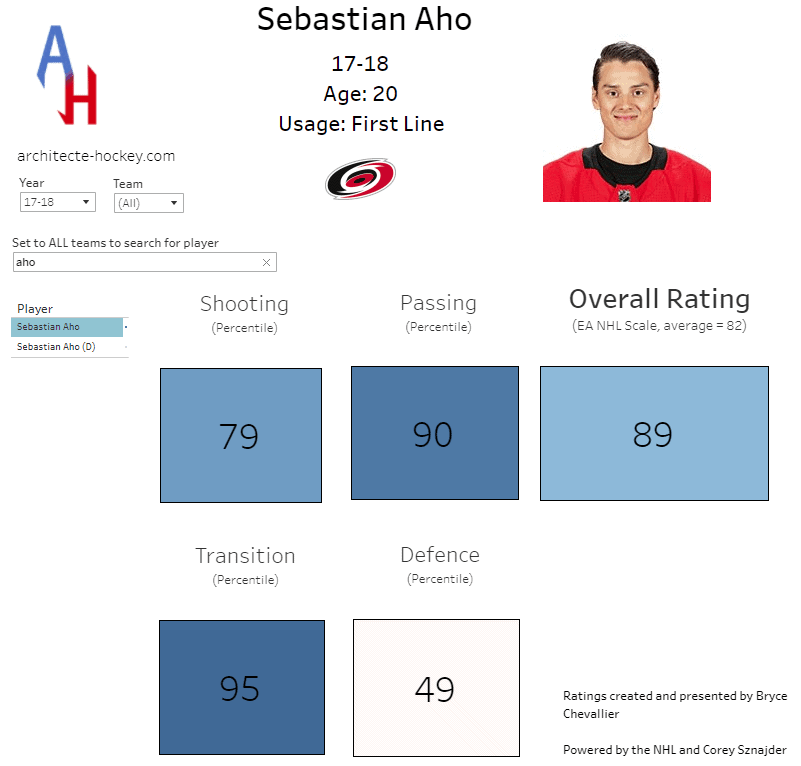 This was actually Sebastian Aho's second season in the NHL. After a solid rookie year at 19, the 20-year-old sophomore was about to take off. He dazzled Canes fans with exceptional skating and passing while showing off a scoring touch. Leading the poor Hurricanes with 65 points in 78 games while being central to their transition was enough for the kid to get onto this list. This season set the precedence for the dynamic scorer leading the Canes' creativity for years to come.
#7: Quinn Hughes, 2019-2020
Stepping up at 20 years old as the Canucks top defencemen was a big step for the organization. What makes Hughes' near Calder trophy campaign standout is his incredible passing and skating.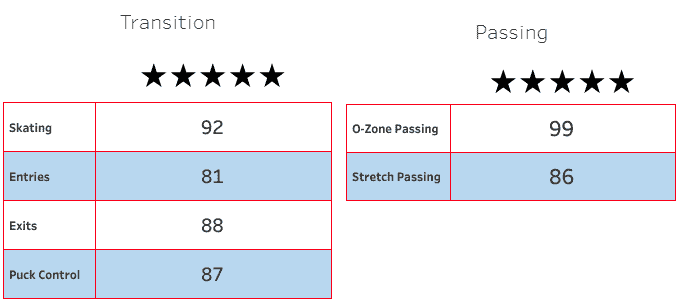 This on the puck ability is what made Hughes' rookie year generate more attention than Provorov and McAvoy's. It is really noticeable. It even got him Norris votes to go along with the Calder ones. Of course, this would happen to any player showing off a league-leading 99 passing rating. For Hughes to do it at 20 years old really stands out.
#6: Miro Heiskanen, 2018-2019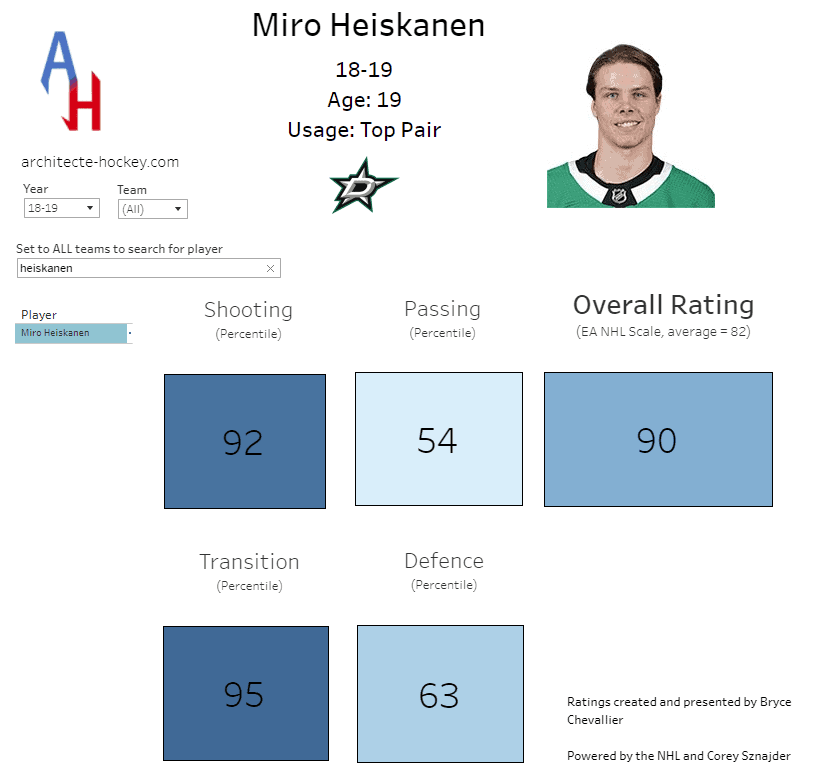 The first 19-year-old on the list, Miro Heiskanen truly impressed as a young rookie coming into the NHL. For a 19-year-old to immediately come in and lead his team's blueline is unusual, but it's exactly what Heiskanen did. His unique playstyle demands him to be the centrepiece when he's on the ice with his skating central to everything he does. And right from his second shift, he showed us that he can skate.
#5: Jack Eichel, 2016-2017
At 20, Jack Eichel was in his second season in the NHL and despite his age, all the expectations were for him to carry a struggling Sabres team. While he couldn't exactly drag them to the playoffs, he showed off elite talent that defines his game today. Looking at the graphic, you'll notice that he was the best transition player in the NHL that season.
The Sabres' dependence on him is seen in his style chart. Playing as a puck carrier, playmaker, shooter and forechecker at 20 places him high on this list and rightfully so.
#4: Mathew Barzal, 2017-2018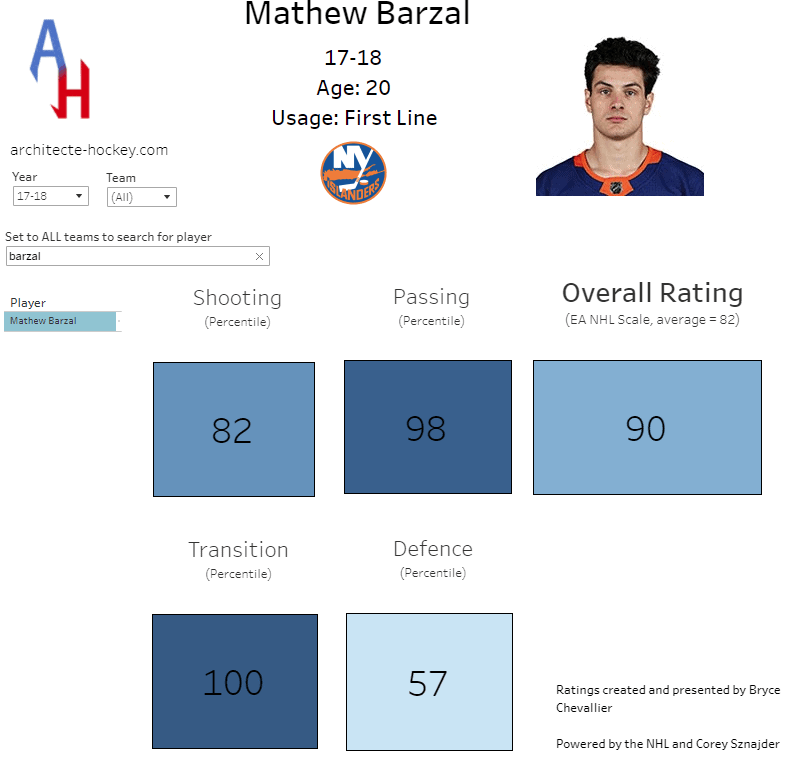 Matthew Barzal has been one of the best players in the NHL since he joined.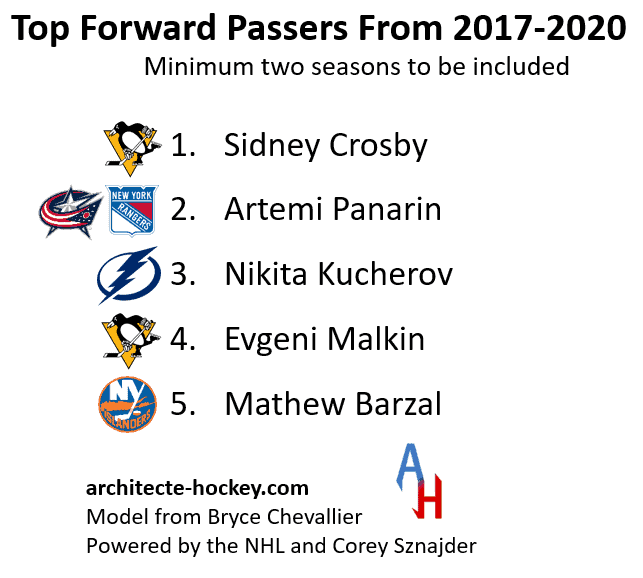 Here we can see just how good he's been in transition and as a passer. Basically, he's a wizard with the puck. This wizardry started as a rookie as he shocked the NHL with an 85 point season and the Calder trophy. This season set the base for Barry Trotz's secret weapon of an attacker for the next many years.
#3: Auston Matthews, 2017-2018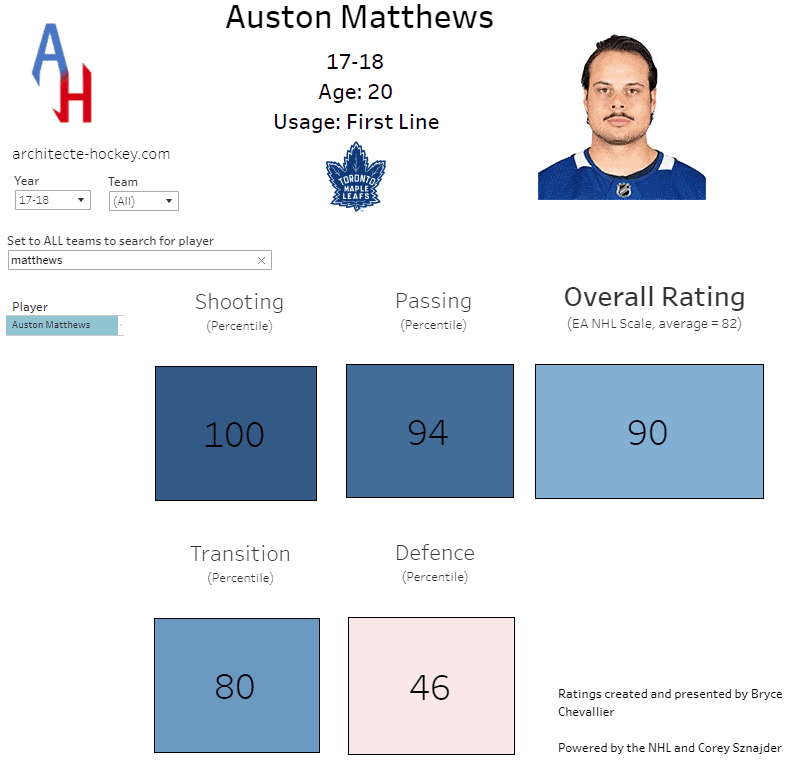 In 2017-2018, Auston Matthews was just coming off of a Calder trophy-winning season. Building off his initial success, he was able to step it up and produce an over point per game year. He accomplished this by using his best in the league shot and remarkable passing. Without the glaring speed, the 20-year-old was able to win battles, control space, create in tight areas and finish at unmatched rates. This toolset is the foundation for what will be one of the best Maple Leafs of the 2020's.
#2: Miro Heiskanen, 2019-2020
You may be thinking "Heiskanen has already been on this list, what is he doing here again. Well, both Heiskanen's 19 and 20-year-old seasons are to be admired.
In his sophomore year, he lead his team all the way to the Stanley Cup Finals. If more needs to be said, I have this write-up on his game.
#1: Connor McDavid, 2016-2017
Finally, I'm sure nobody is surprised with Connor McDavid at number 1. Back when he was 20 years old, he was already the elite skating, shooting and transition player he is today. His defence at the time was also enough to take the Oilers to the second round of the playoffs, something he hasn't repeated since.
This season wasn't only the best U-20 season, but it's also one of the best seasons all together from a player over the past 4 years. This saw him with the Art-Ross as top scorer, Ted Lindsay as the most outstanding player and the Hart as the league's MVP.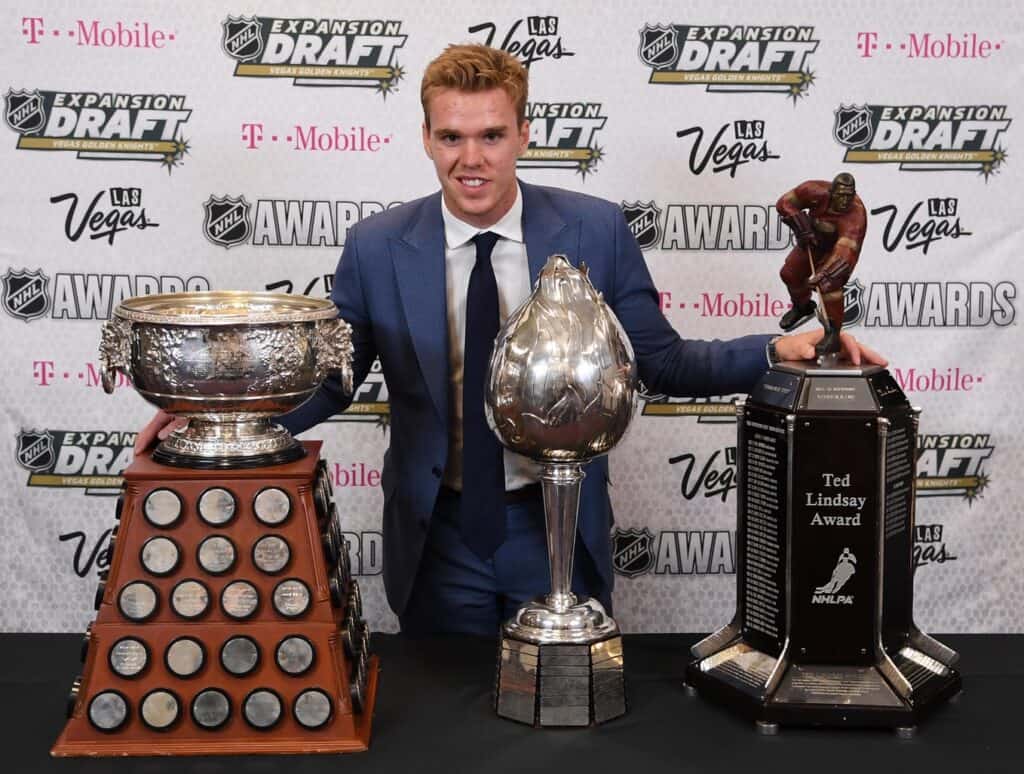 Finally, I will leave you with a reminder to sign up for the newsletter to never miss a post and this link to support me as well as get access to all the data and stats on this website.