As those who follow me on Twitter would have noticed, I've been counting down the top-rated players per position since 2017-2018 per my model. This list comes directly out of my model's output of their overall ratings which uses a combination of adjusted impact data from the NHL play-by-play as well as adjusted hand-tracked micro stats from Corey Sznajder.
As a reminder, the overall rating is judged based on contribution in the defensive phase, in transition and in attack through passing and shooting. Performing well in more minutes is rewarded as well. This means that playing a high number of minutes exclusively won't give you a good rating, but good results in large sample sizes stand out. Due to this, players with good performances in limited minutes may be excluded as the model can't be confident enough in the results to separate talent from noise and therefore doesn't assign high ratings.
It is also important to remember that most of these players have the same ratings or are separated by only one or two points. This is an opportunity to discuss the best players in the game, not create a definitive ranking.
Before we jump into the list, I will remind you of those who have already been posted on Twitter:
#15: Ehholm – 90 overall
#14: Klingberg – 90 overall
#13: McAvoy – 90 overall
#12: Burns – 91 overall
#11: Jared Spurgeon, 91 overall
Mistake-free reliability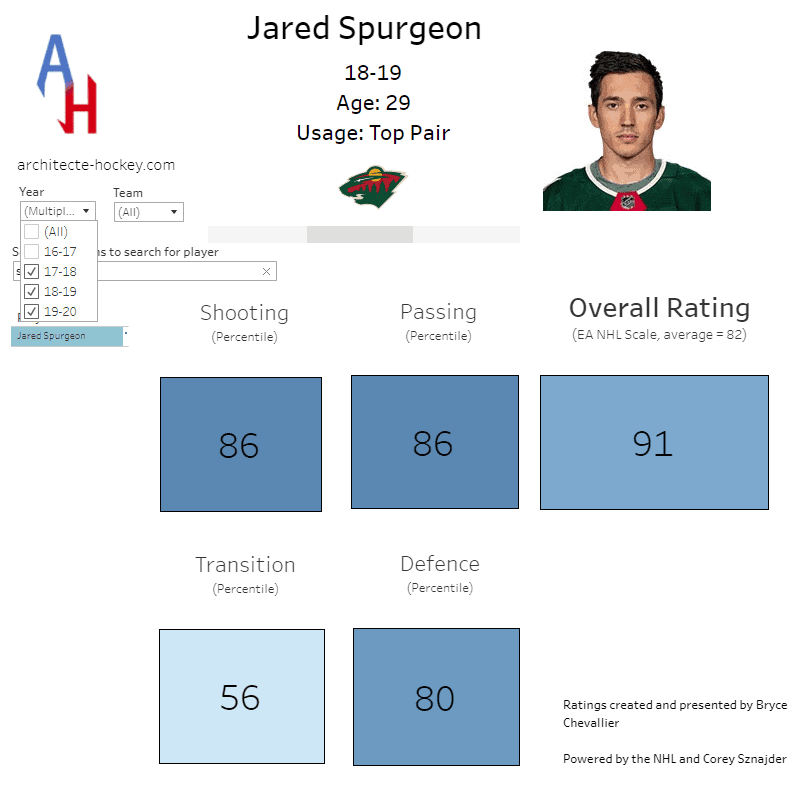 Jared Spurgeon has just been named captain of the Minnesota Wild and he has indeed put up the numbers to back it up over the past 3 years. He is simply one of the most reliable players you can have on your blueline. His unimposing frame and lack of flashy skills means he blends into any role the Wild need him for.
This adaptability is seen in his 3-year style chart – an almost symmetrical hexagon with no stand out style. This shape of this chart is because season to season, Spurgeon changes his style more than a regular defender, therefore averaging out to a balanced contribution.
Just because he doesn't have a clear style doesn't mean he doesn't provide crazy good value. His scores above the 80th percentile in shooting, passing and defending are obvious to anybody who really pays attention to the little skills in his game.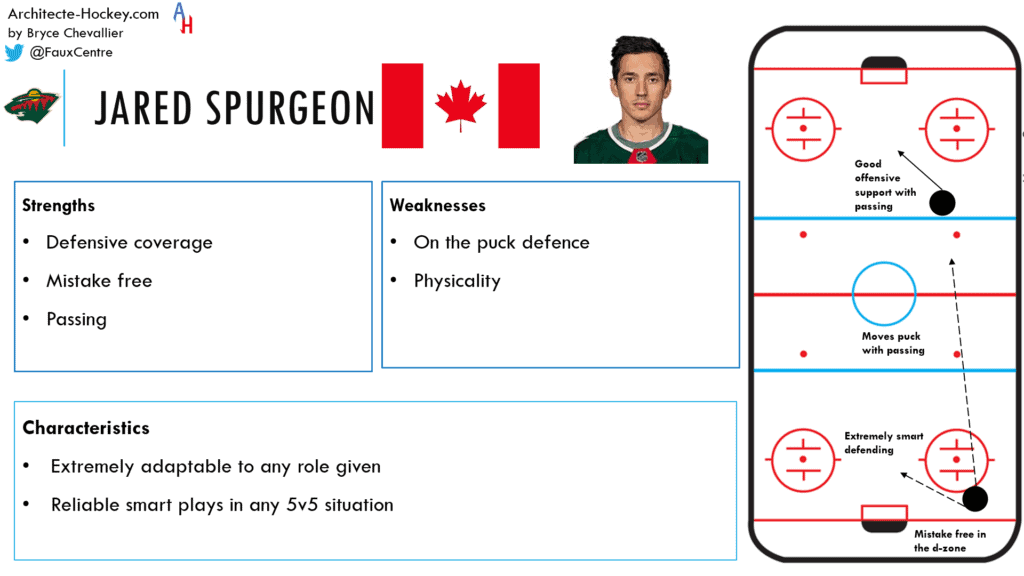 #10: Jaccob Slavin, 91 overall
Modern shutdown man
Jaccob Slavin is not only a defensive stud but he also offers all the puck-moving you would want from a modern-day shutdown man. His high scores on defence, but also passing and transition are immensely valuable to the Canes play driving style. His 3-year style chart demonstrates his extraordinary use among these roles.
When a player like Slavin can be your team's shutdown defencemen, build-up passer, puck carrier and quarterback, you take it. No weakness and endless versatility define his game. Anything from the Canes end-boards to the opponent's blueline is run by Slavin.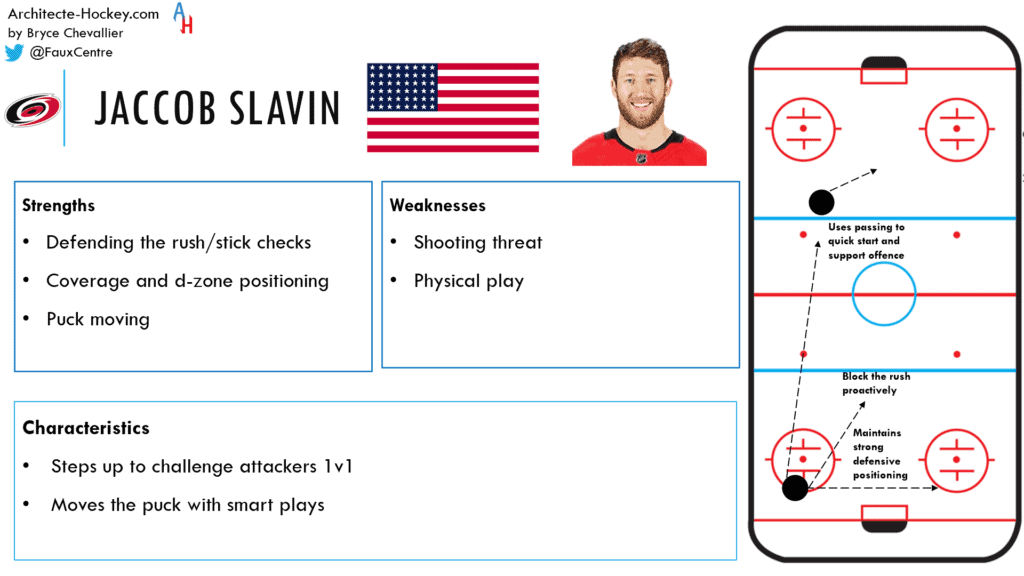 #9: Miro Heiskanen, 91 overall
Smooth-skating rover
Miro Heiskanen has only been in the NHL for two seasons but they have been groundbreaking seasons. The first thing anybody would notice about Heiskanen is his flawless skating. In fact, skating is the foundation of everything he does. This means that not only does Heiskanen lead the Dallas transition and attack, but his offensive and defensive contributions are made possible due to his ability to cover ground fast.
He doesn't spend much time covering the defensive zone as a defensive defenceman would, but he can pinch up to create offence high in the zone, and recover to catch up to attackers and defend them. This leads to a high score in shutdown defending or as I like to explain it, on the puck defence. Of course, his real value still lies in puck carrying.
#8: Mark Giordano, 91 overall
Direct impact on both ends of the ice
Despite his old age, Giordano has established himself over the past 3-years with a Norris Trophy. Unlike the players who have shown up ahead of him so far, Giordano isn't a great skater, he doesn't excel in the micro details of the game and he isn't a flashy creator. Instead, he uses his presence to make a visible impact on defence and has a bomb of a shot to scare teams when he's on the attack. He plays as a remarkable horse and the Flames blueline.
His 3-year style chart demonstates his stand out on the puck defence, shooting threat and passing ability.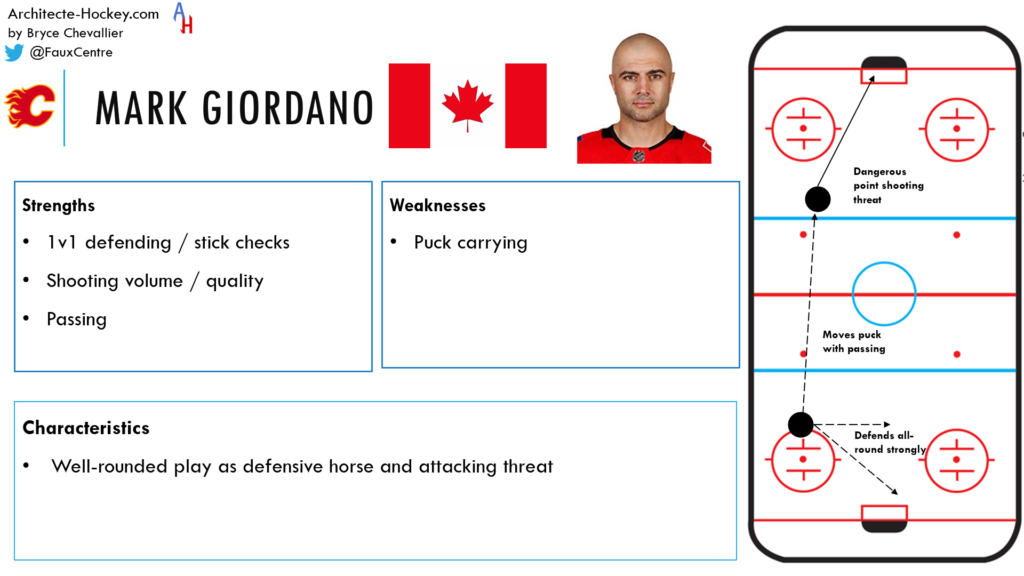 #7: Ryan Ellis, 91 overall
Dynamic passer with a defensive focus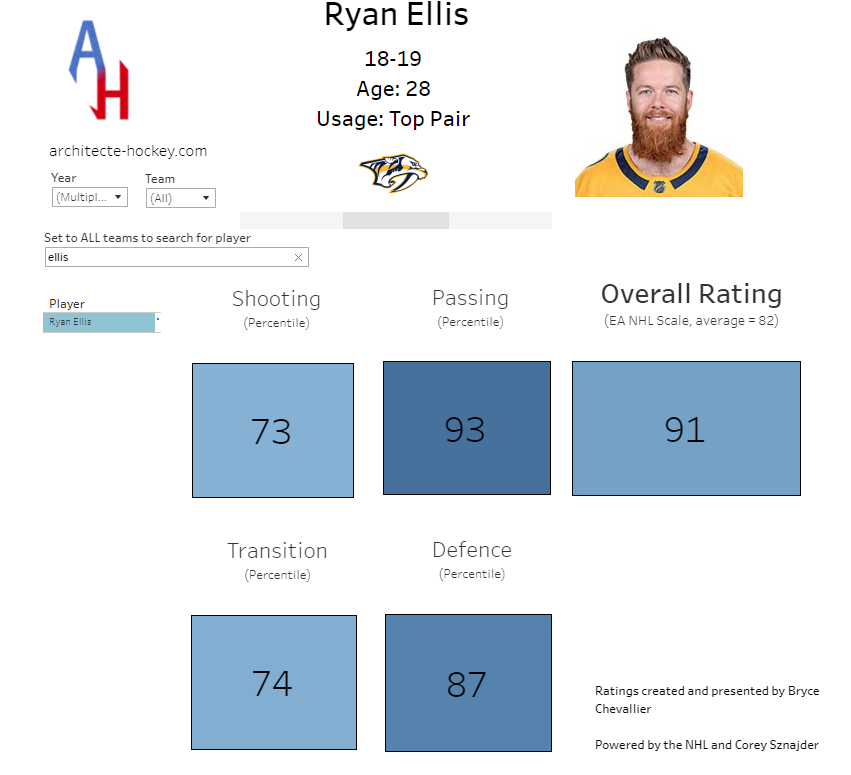 Ryan Ellis stands out as a unique defenceman with a complete passing and defending profile. He can step up and play on the puck defence, and can also cover deep to just overall prevent chances against. However, while his defensive value is high, his passing ability is even higher.
His play as a build-up passer shows his value in springing the attack while sitting deep and manning the defensive presence. However, once in the offensive zone, Ellis can also serve as a quarterback to keep the offence alive and drive both defensive and offensive chances.
#6: Seth Jones, 92 overall
An elite toolset
This one may surprise some and please others. Seth Jones has become a staple of the analytics vs the eye-test debate with the former pointing out his flaws and the latter giving him Norris shouts. My model is high on him over the past 3 seasons due to his incredible ability with the puck. It is worth noting that this is for the last 3-years and he did take a small step back this season. However, he had a very strong 2017-18 and 2018-2019 that puts him at six on this list.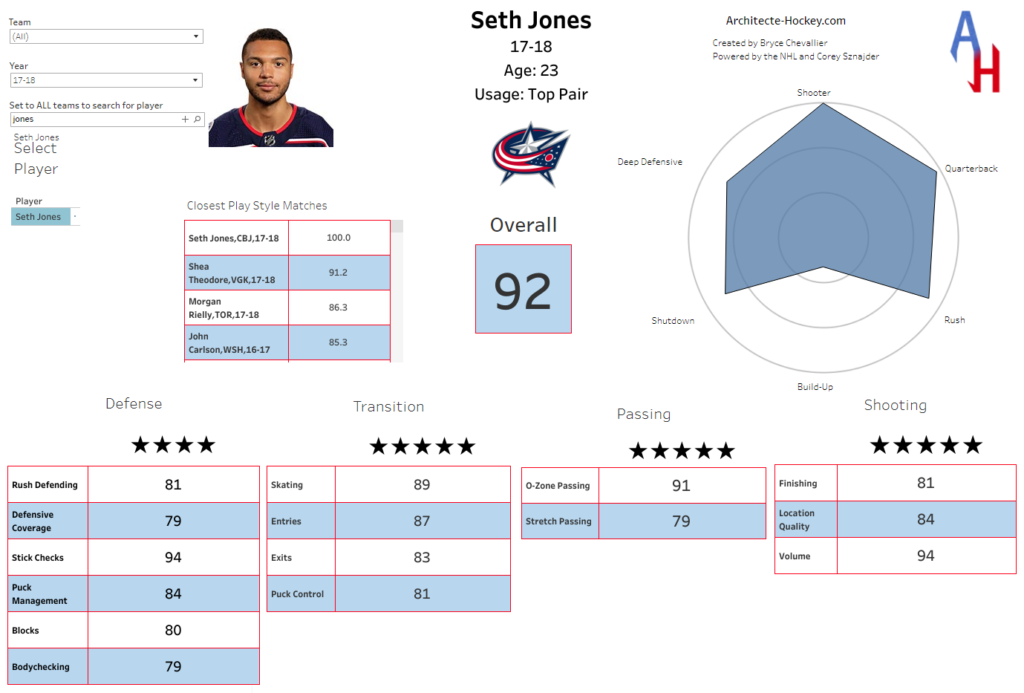 To remember how good he was in his prime, here is his very complete 2017-2018 season. The defence is still strong earning four stars, and he has no other holes in his game.
His 3-year style chart also demonstates his complete game.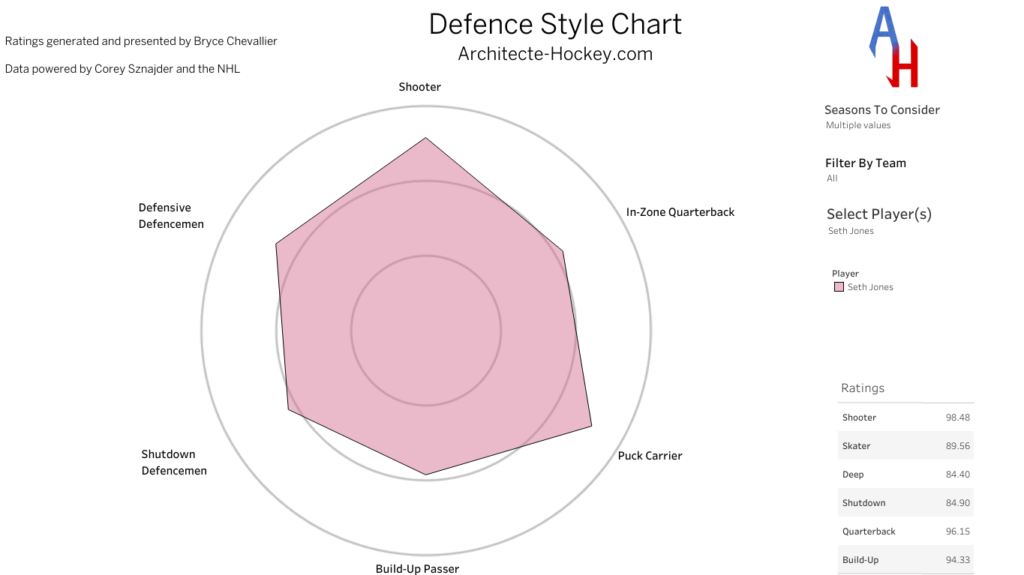 He has excelled in every aspect of a defender's game over the past 3 years. When looking at this, it is no surprise why so many hockey minds value him as the prototypical number one versatile defender. He may not be that Norris trophy winner yet, but despite some REAL defensive issues, he has all the tools to become a prime Drew Doughty like player. I think the first step is to fix his passive defence, which when evaluating the rest of his game, could very well be a symptom of the Jackets' pressure inviting approach.
#5: Kris Letang, 92 overall
Rounded offensive creator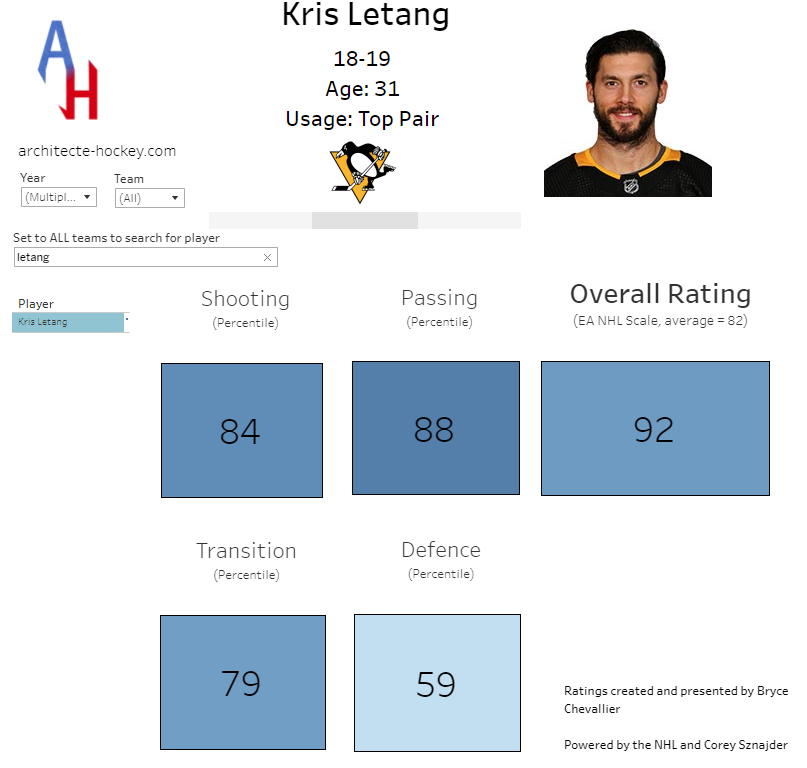 Kris Letang has been a seemingly overlooked star. Usually, the number one blueliner to 3 Stanley Cup-winning teams is heralded as a legend, yet Letang hasn't gotten a Norris or that legendary pedigree. Still, his three seasons since those back to back Cups have put him in the top five defensemen.
His three-year style chart shows his ability as a number one defencemen in any role. He is often looked at as an offensive creator, which is very true. He always is on the lookout to create and drive offence but he doesn't completely forget about defence. The Penguins have found the sweet spot that allows Letang to be an offensive force with defensive reliability. The signs of an elite number one defensemen.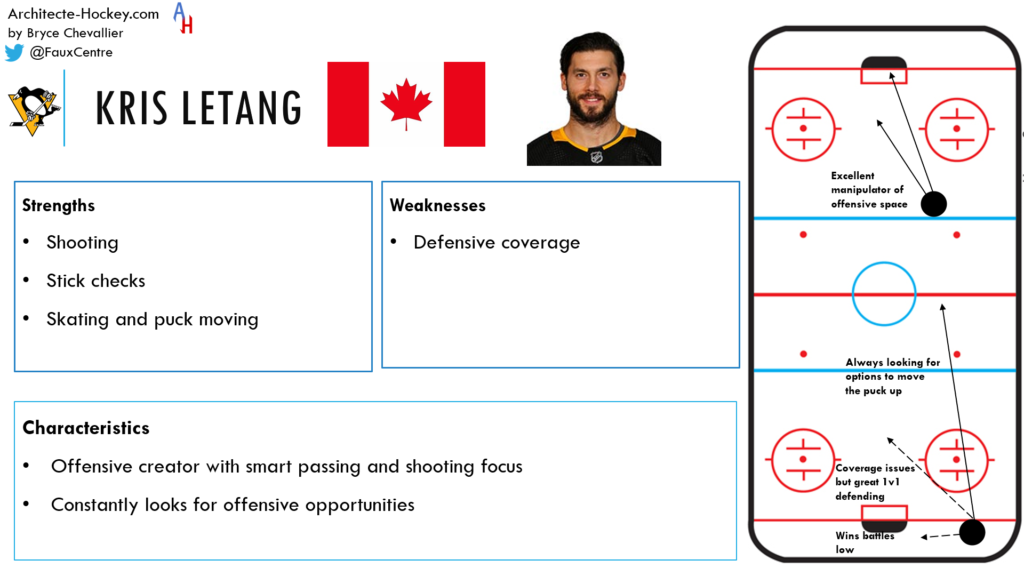 #4: Alex Pietrangelo, 92 overall
Skating to make a complete impact
Alex Pietrangelo has had himself an incredible past three seasons. He scored extremely high ratings of 93 in 2017-2018 and 2019-2020 and won the Stanley Cup in 2018-2019. What allows the ex-Blues captain to be so good is his cerebral use of skating to make a complete impact.
Much like Heiskanen, Pietrangelo uses his skating to move up and down the ice with ease. This allows him to be the main puck carrier for the Blues while making use of both his shooting threat as well as his on-the-puck defence. The excellent shutdown and puck carrying profile are what define modern-day defensive defencemen; add in Pietrangelo's shooting abilities and you've got one of the best defencemen in the game.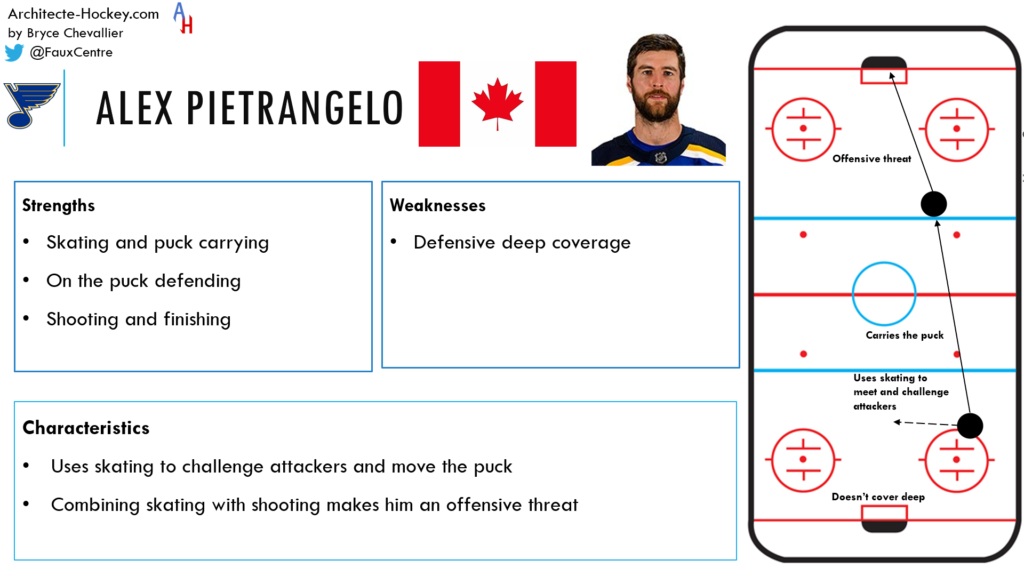 #3: Victor Hedman, 92 overall
Strong play driver through the offensive game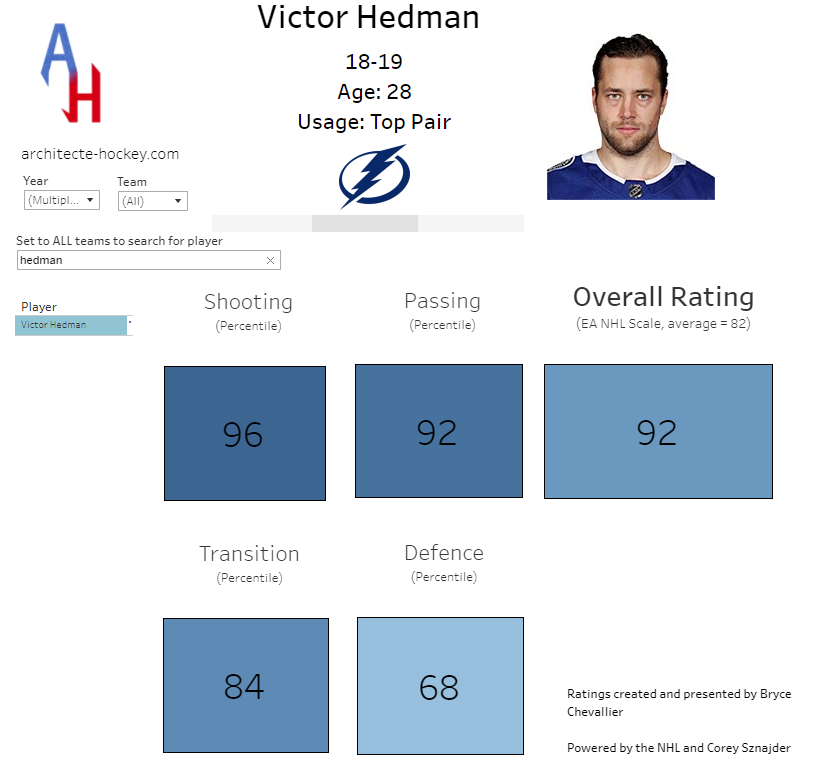 Some will be surprised to see that Hedman is not at the top of this list. He did indeed win a Norris, Conn Smythe, Presidents' Trophy and Stanley Cup over the past three years. This list is not definitive, and there is a good argument for him at 1, but the model places him at 3 instead.
Hedman is a force going forward. Both his shooting and passing lead to a strong attacking player and he can also build-up the attack from deeper. His size probably leads to false narratives of him being a defensive defenceman, but his defence is still strong and does drive results for the Bolts when he's on the ice.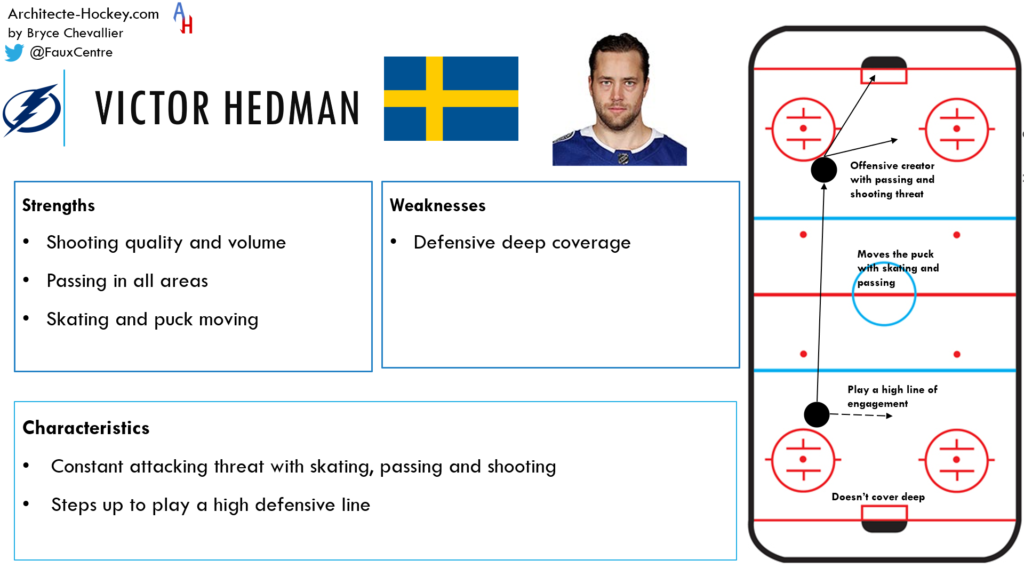 #2: Roman Josi, 93 overall
A unique attacking force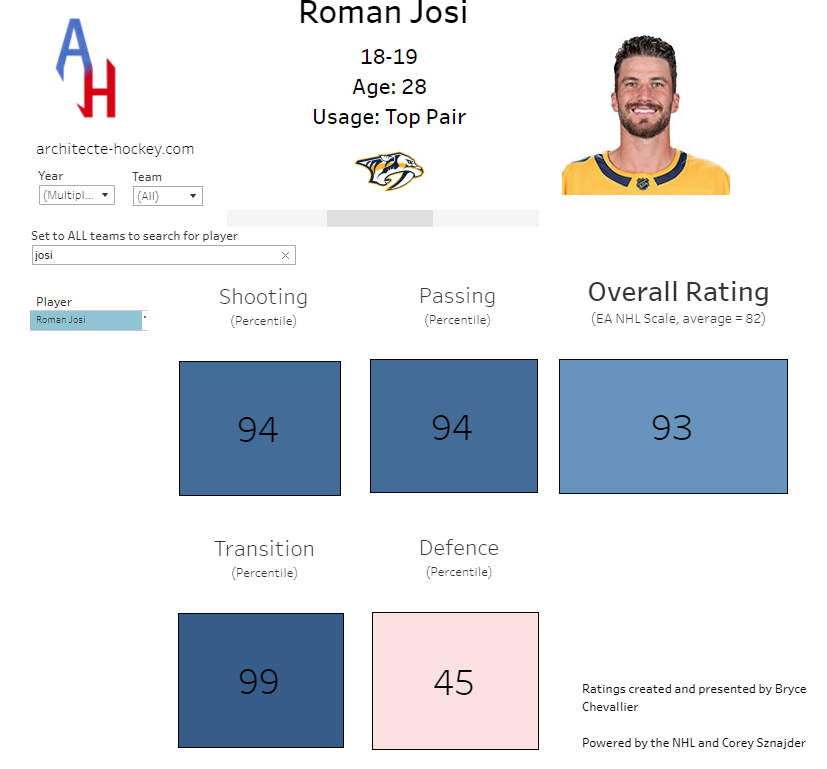 Roman Josi is simply an attacker from the back. His elite play in transition, passing and shooting resemble some of the best-attacking players in the game. To do this from the back-end is truly unique. In fact, his 2019-2020 Norris winning seasons earned him an all-time high single-season rating of 95. Just appreciate some of these staggering numbers. How many 99's can one have.
His style chart further proves his profile as basically a high powered forward. This truly does make him unique in the NHL. A defender that resembles McDavid, Kane and Draisaitl more than any other name on this list.
Not much defence but he always has the puck, so the oppsition can't get chances on him anyways.
#1: Erik Karlsson, 93 overall
A game-changing superstar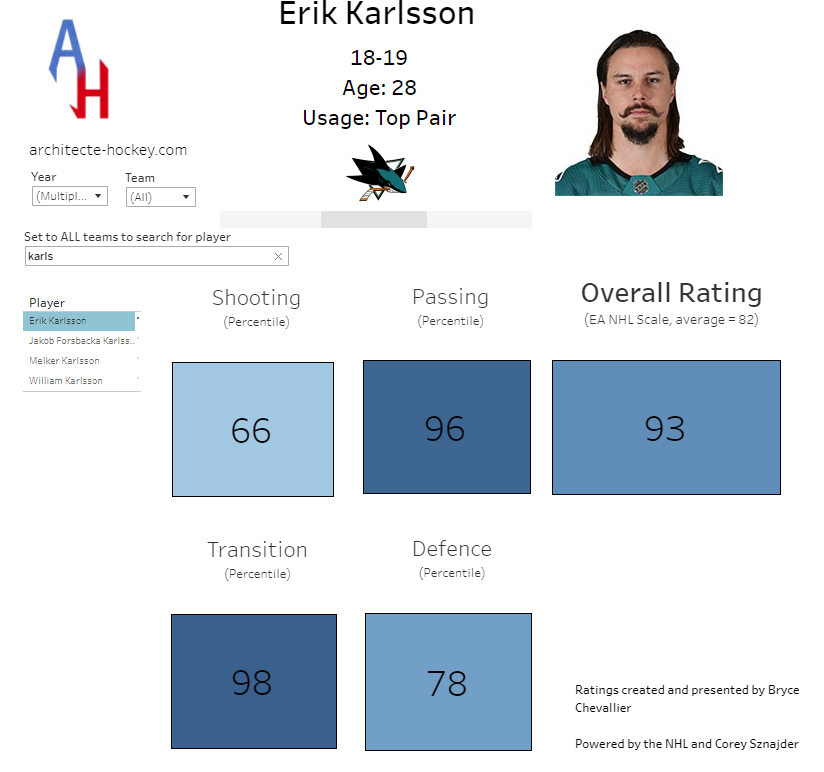 I feel as though the slight drop off and injuries this past season has caused many to forget about how good Karlsson truly is. He led the league with a 94 rating in both 2017-2018 and 2018-2019, enough to land number 1 on this list.
Many will know Karlsson for his unmatched passing and ability to split teams apart, but he also is nearly unbeatable 1v1 as well.
He scores very high as a build-up passer and puck carrier. That means that he can use his passing range to pick apart teams in transition. If you try to cover this, he will take the open lane and split your NZ forecheck with his skating. After he easily enters the o-zone, you have to respect his passing and shooting threat. Impossible to defend. To solidify him at number one though is his league-leading takeaway numbers and incredible rush defence. If you attack him, he will use his skating to catch up and stop you. The only way to expose him is with an isolated heavy forecheck against him that can leave him prone to defensive turnovers and mistakes.
Finally, I will leave you with a reminder to sign up for the newsletter to never miss a post and this link to support me and get access to all the data and stats on this website. Signing up as a patron will give you access to all the stats from the model used in these posts and my future work. There is also a new deal to sign up for a yearly subscription and save 16% off the base price.
Enjoy the season.