The breakthrough of Miro Heiskanen has been apparent throughout these playoffs. Not only has his play lead to phenomenal scoring, but he's also dominant in other phases of play as the key man responsible for converting Dallas' famous neutral zone structure into a threatening attack. Now lets look at what a stats-based Miro Heiskanen scouting report would look like.
Report of Skill and Style
Looking at his profile card, he's clearly a top defenseman with a team-leading 91 rating. This shows his importance, but the key question is why. Let's get into the diagnosis.
Going Forward
Looking at his style helps us understand his complete game and ability in multiple areas. While he's very versatile, his standout quality is his rushing ability. Bowness leverages his 91 skating to lead the Dallas transition. We often hear about the modern-day mobile defensemen, but Heiskanen is passed that. He isn't just mobile to escape pressure, but continues all the way up into the entry, completely running the entire build-up.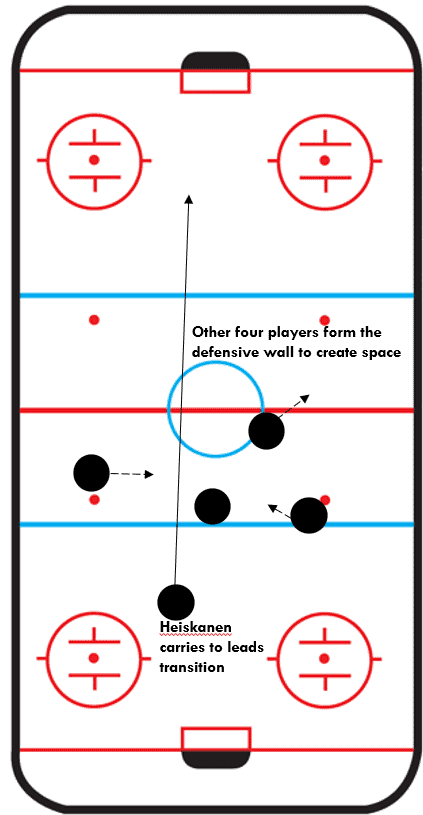 This transition is somewhat unique. Instead of escaping pressure to build-up, the entire Dallas team forms a wall to allow Heiskanen to pick the space and lead them forward. This means that many times, Heiskanen is the leading player up, while the forwards play defence.
For Dallas, this works like a charm as the reversal of positional responsibility sends opponents for a loop. Of course, this rely's on some key strengths in Heiskanen's game in skating, the vision of open lanes and the ability to attack them. The Stars are also allowed to get away with this due to very defensively responsible forwards.
Heiskanen's being the highest player when attacking also explains his 93 shooting location score. For a defenseman, it is unusual to be so close to the net when attacking but it offers a very present quarterback to put the opponent on their heels and threaten them in dangerous areas.
Tracking Back
The key with mobile defensemen is that their skating isn't only good for the transition, but it also helps them get back.
We just saw how Heiskanen's play leads him to being the highest player at many times, yet he still scores a good 86 at defending the rush while also being a good suitor in the shutdown defence style. This is because as soon as there is a defensive transition, he will jump back and close the gap with attackers. Once there, his stick checking makes him hard to deal with and he wins those battles.
The little recovery time he needs to fill positions means he covers mistakes fast and maintains good coverage. That's the issue with attacking him, get him out of position and he can still recover like lightning.
Some Weaknesses
Of course, he's far from the perfect player. Looking at his ratings, there are four that stick out:
Finishing 76
Stretch Passing 78
Blocks 77
Bodychecking 76
Looking at his style chart we can identify that the only role he is below avarge in is as a build-up passer. Add that to the list.
Implications
Looking at his weaknesses, we can ignore finishing as a potential area to exploit. As mentioned earlier, he jumps up into play to get extremely high-quality chances and improving his finishing is something he can work on that would take him to the next step as a force to be reckoned with.
Bodychecking is a more interesting weakness. There are many problems with pure hitters as often times "finishing" your check leaves you way out of position. However, a low score could also be an indication of reluctance to go into corners physically. This is something that will come up in the follow-up post on how Tampa is exploiting this during the finals.
Finally, his lack of play as a build-up passer and lack of skill in stretch passes is crucial. As seen in the diagram of their transition above, Heiskanen is the base of the build-up. Dallas adjusts to make him the puck carrier all the way up but there are drawbacks to not having a reliable option to pass.
It makes the whole process dependant on one man with little alternative. Once the opponent solves this, they can weaponize it and attempt to neutralize their entire approach.
Final Report
Here is the abbreviated summary: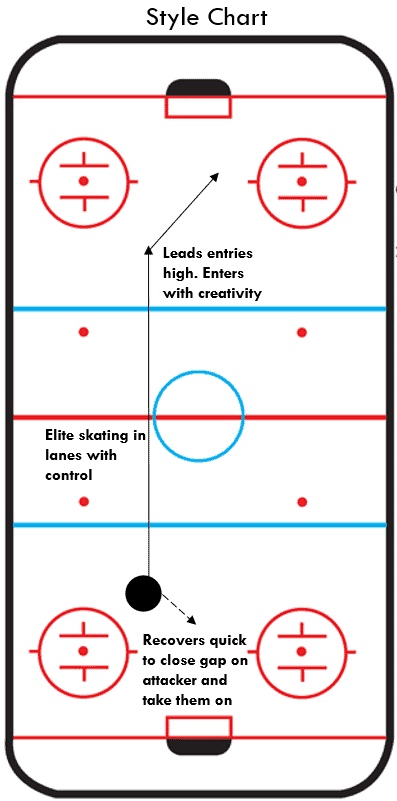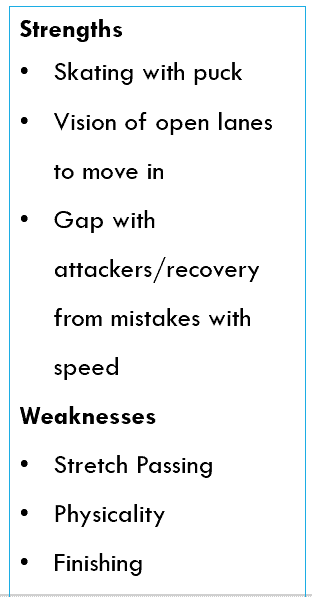 Stay tuned for the next post of how Tampa weaponized some of his weaknesses to neutralize his game.
Access To The Data
Finally, all this data I use for the assessment including, the player profile cards and more for the entire league are all available on this website for just $5. So if you're curious about a player or your favourite team, click here to join now.
I'm still looking into ways to add interactive charts and dashboards to make player evaluation and recruitment easier than ever to understand so stay tuned and bookmark this website for more writeups.