As those who follow me on Twitter would have noticed, I've been counting down the top-rated players per position since 2017-2018 per my model. This list comes directly out of my model's output of their overall ratings which uses a combination of adjusted impact data from the NHL play-by-play as well as adjusted hand-tracked micro stats from Corey Sznajder. The top defencemen have already been ranked so you can find that article here.
As a reminder, the overall rating is judged based on contribution in the defensive phase, in transition and in attack through passing and shooting. Performing well in more minutes is rewarded as well. This means that playing a high number of minutes exclusively won't give you a good rating, but good results in large sample sizes stand out. Due to this, players with good performances in limited minutes may be excluded as the model can't be confident enough in the results to separate talent from noise and therefore doesn't assign high ratings.
It is also important to remember that most of these players have the same ratings or are separated by only one or two points. This is an opportunity to discuss the best players in the game, not create a definitive ranking.
Before we jump into the list, I will remind you of those who have already been posted on Twitter:
#15: Landeskog- 91 overall
#14: Crosby- 91 overall
#13: Marchand – 91 overall
#12: Malkin – 91 overall
#11: Mathew Barzal, 91 overall
Wizard with the puck
Mathew Barzal stepped into the NHL with a Calder Trophy-winning season three-years ago and has been one of the best players in the league since. The impact he has on the Islanders can not be overstated – just look at the perfect transition and passing scores. Indeed, Barzal has had a perfect 99 rating in skating and near-perfect offensive zone playmaking ratings in each of his NHL seasons.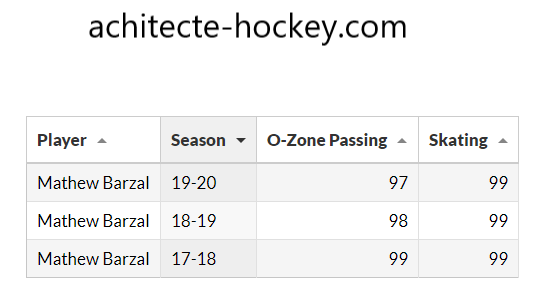 A one-man creator that serves as the perfect secret weapon for Barry Trotz to impose on any opposition. His 3-year style chart shows he does get used in the deep role encouraged by the Isles system but will carry the puck and create on his own.
In fact, his play deep in the defensive zone also has a purpose. Unlike most defensively responsible Islander forwards who cover well, Barzal chases and use his stick checking abilities to win pucks in order to counter-attack the other way with speed.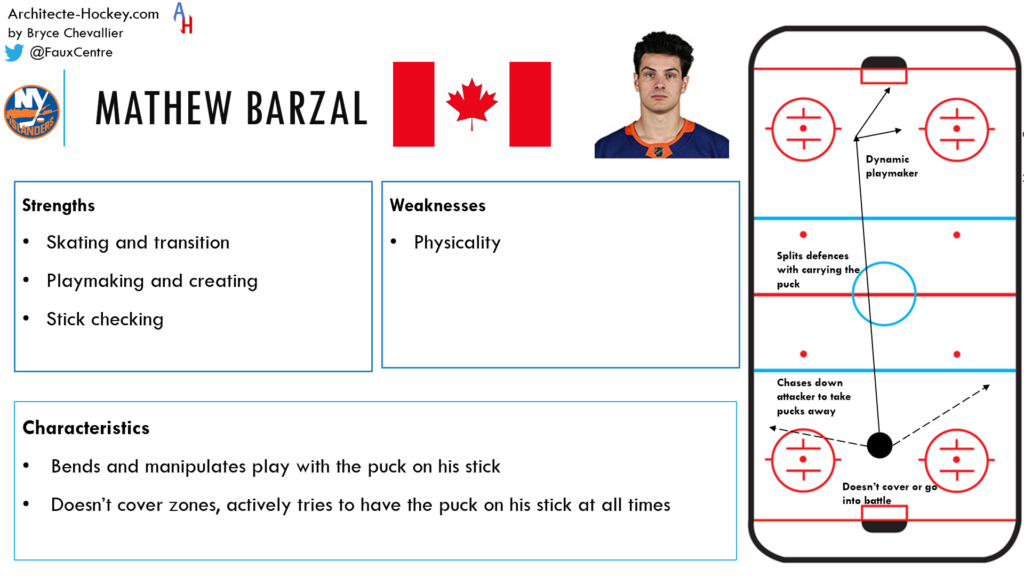 #10: Auston Matthews, 91 overall
Cerebral creator of space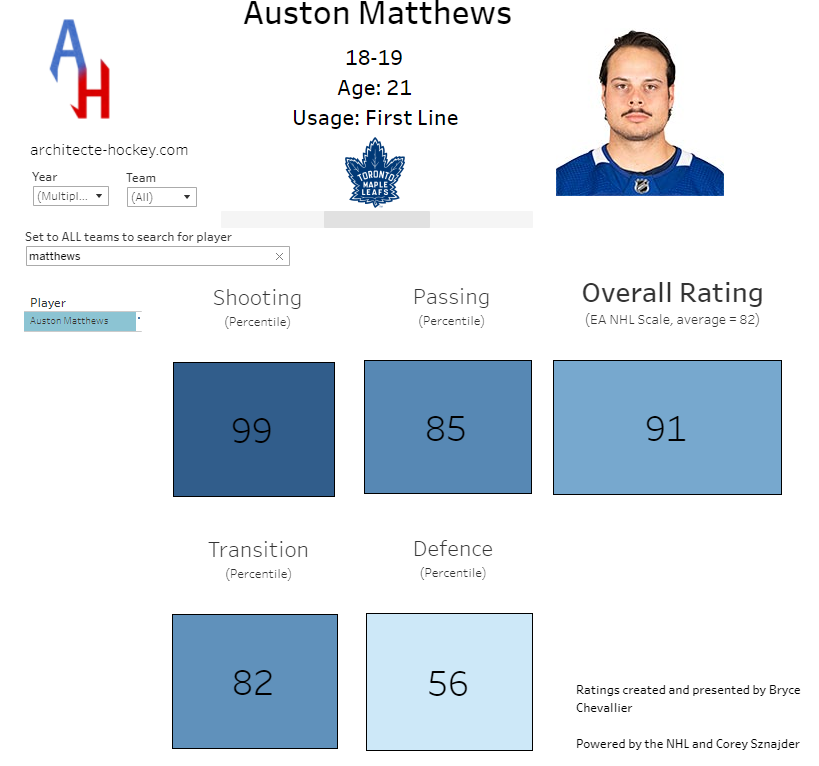 Auston Matthews will likely be one of the faces of the NHL for the 2020s. He doesn't have the electric speed that makes him stand out above the rest to the casual fan, but pucks follow him and he always finds his way. Combine this with his league-leading shot and he is a constant danger. His 3-year style chart shows off his presence in the defensive zone, as well as his dual-threat usage as a playmaker and shooter on the attack.
He doesn't stand out as a puck carrier but he can also contribute to the transition by finding space to make plays. Smart plays are the secret to Matthews' success. His puck skills allow him to work in tight spaces, stealing pucks and moving to pockets of space where he can punish the opposition defences with his shot.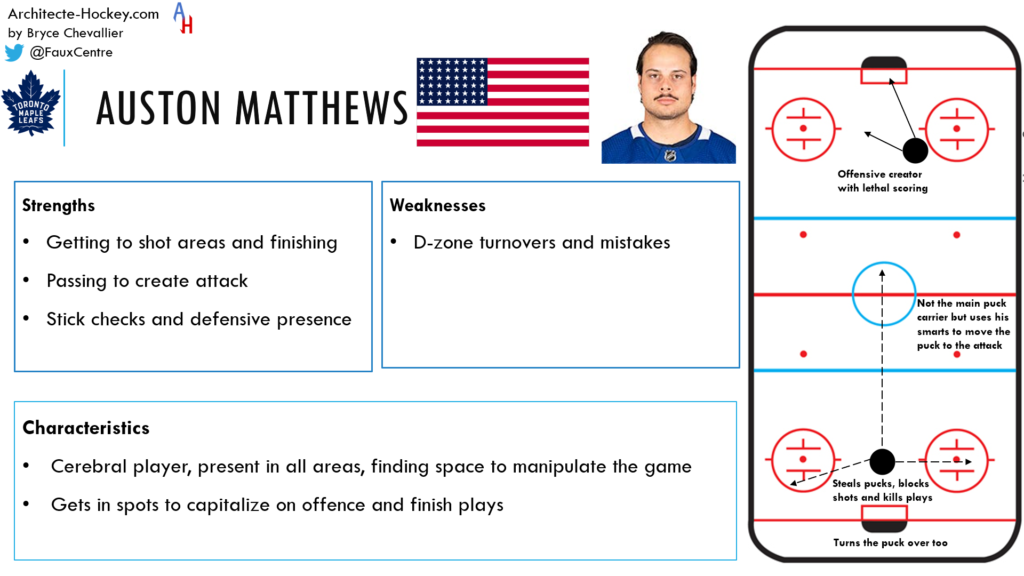 #9: Brayden Point, 91 overall
Complete threat on the puck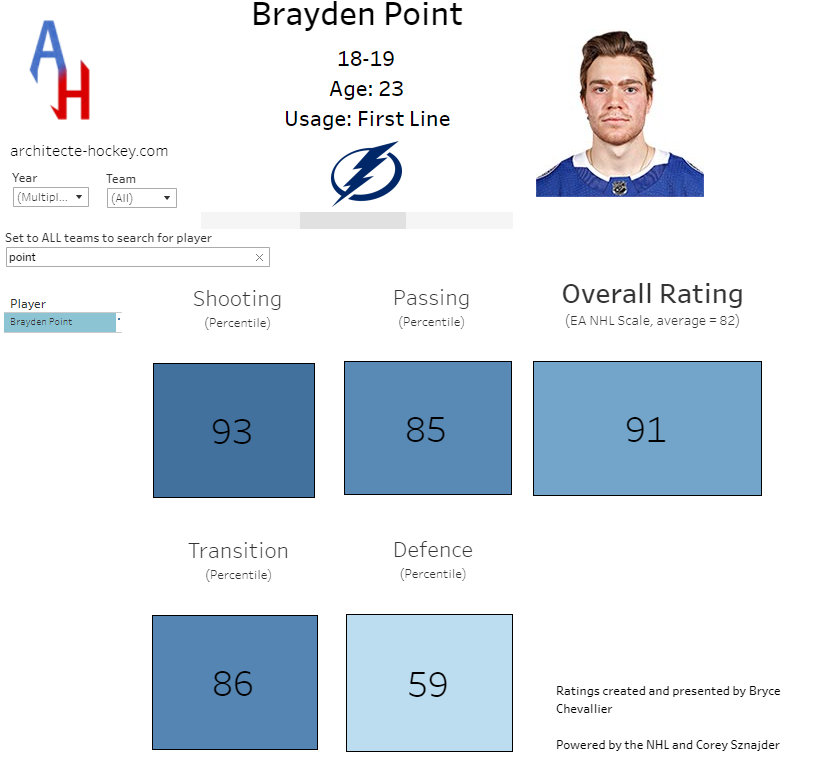 Brayden Point has had a quick ascension into Tampa's 1C spot over the past three seasons and has been rewarded with a President's Trophy and a Stanley Cup. He is exciting to watch but also plays a complete game without forgetting too much about defence.
His style over the past 3-seasons has been shifting with his enlarged role, but on average, he can do a bit of everything other than getting hard-nosed and forechecking. This means that he is comfortable covering deep, and is versatile in all areas on the puck. However, he mostly stands out as a creator of the rush, with an ability to score on the counter-attack, as well as a creator off of the cycle.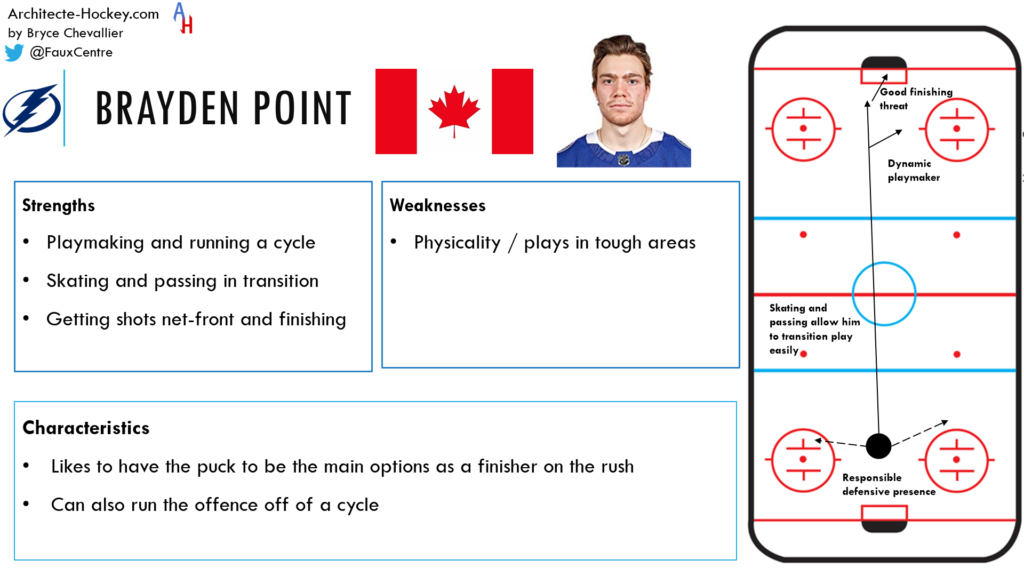 #8: Mark Scheifele, 92 overall
High IQ playmaker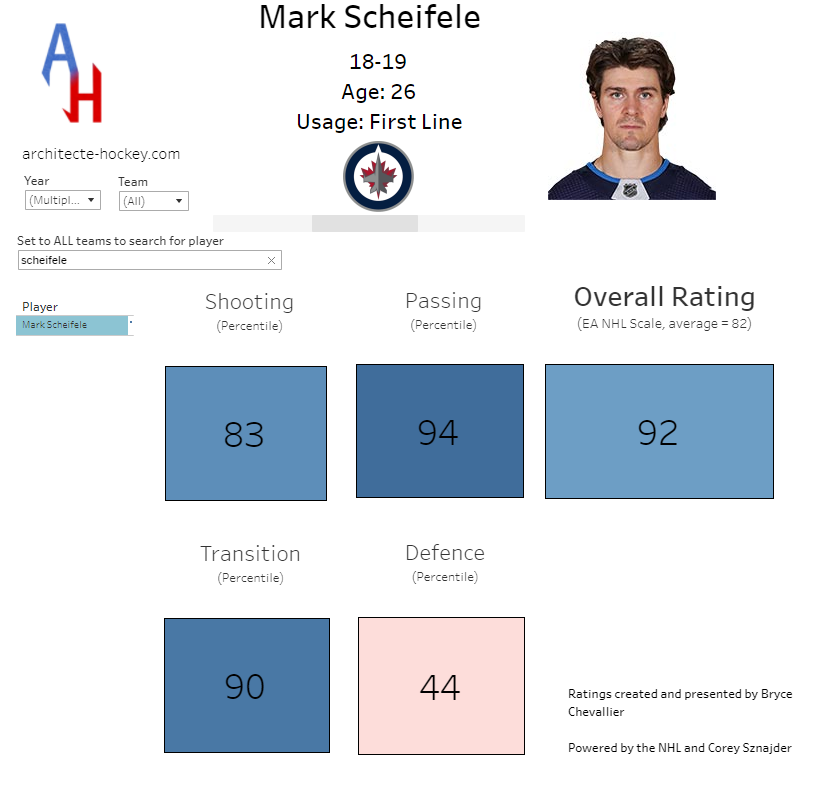 Mark Scheifele is a student of the game. He watches plays and jumps into areas where he can win battles and use his skills to create high-quality chances. His play has been extremely valuable to the Jets as a driver of offence by getting to the tight areas in-front of the net.
This graph from the great Micah Blake McCurdy shows his isolated offensive impact at even strength does indeed create in those dangerous areas. Taking a look at his 3-year style chart, he drives this offence as a puck carrier and playmaker as well as has a presence deep in the defensive zone.
Scheifele shows all the signs of a very smart playmaker that gets involved to make a difference in all three zones. However, his defensive mistakes, do keep him from making a truly positive impact on the defensive side.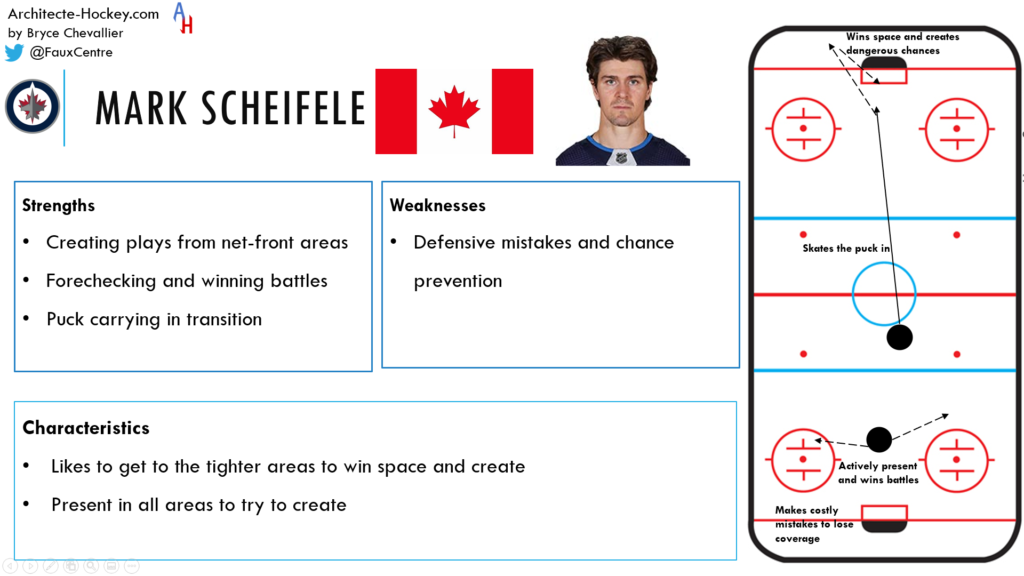 #7: Nikita Kucherov, 92 overall
Dual attacking threat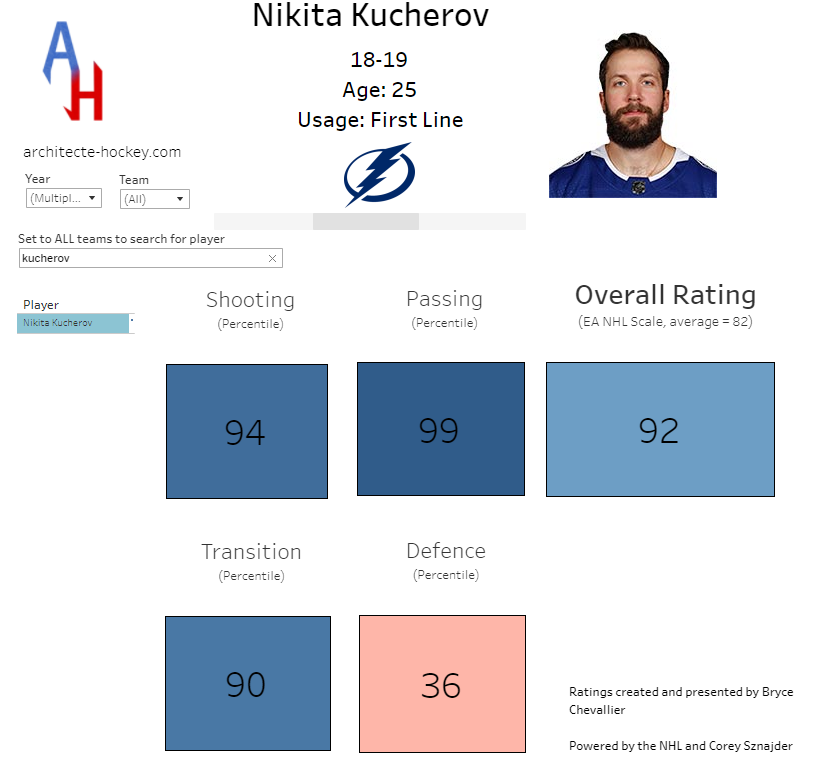 A Hart, Ted Lindsey, Art Ross and Stanley Cup – Kucherov has had a very prolific past three seasons. He does this by being a monster threat whenever he has the puck. Right from the defensive zones he can split NZ forechecks with his passes, take on defenders with ease and put defenders on their heels with an ability to manipulate defensive coverage while maintaining a significant shooting threat.
His three-year style chart shows off his dynamic abilities on the puck. Despite the lack of a defensive presence, Kucherov's skills can take over games for the Lightning.
#6: Leon Draisaitl, 92 overall
Commander of the attack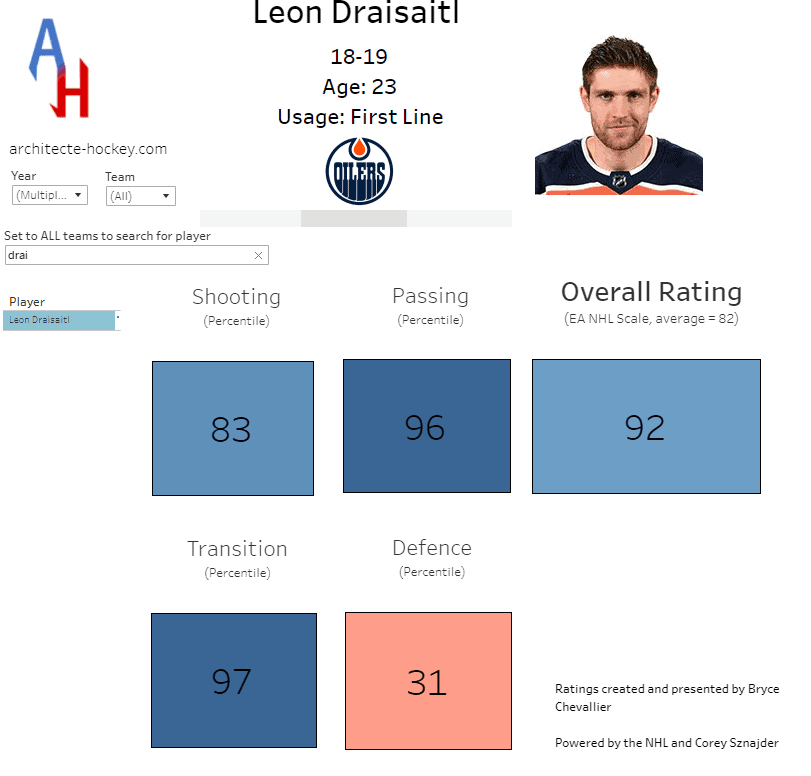 Leon Draisaitl has become a controversial figure among data enthusiasts as the Art Ross winner also picked up the Hart and Ted Lindsey Trophy despite a poor defensive showing. These defensive numbers were truthfully poor, but his ability in transition, creative playmaking and ability to tally 50 goals is astonishing.
His three-year style chart demonstrates skills with the puck as a transitional creator. He doesn't focus on the defensive game and shockingly doesn't shoot lots, but his shot is deadly accurate forcing defences to respect it while he focuses on playmaking. His creative passing comes in many different forms. From deep with stretch passing to little touches into dangerous space in the offensive zone – Draisaitl is a threat from everywhere.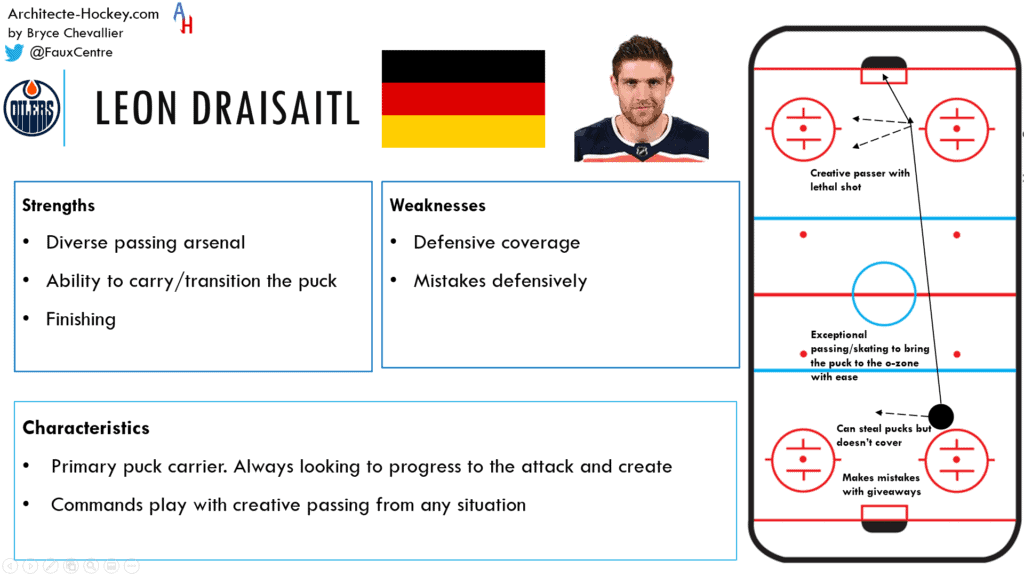 #5: Jack Eichel, 92 overall
Versatile center of play
Jack Eichel has been painfully suffering in Buffalo since he entered the NHL but the lack of playoff appearances are not due to his lack of trying. Eichel's skills in skating and creating are obvious to anybody who's seen him play, making the high transition and passing ratings very expected. However, while his skill set is best suited as a transitional playmaker, his 3-year style chart shows his versatile contributions to many roles.
Eichel stands out with a much more balanced and versatile style chart than most quick puck carriers. This is expected as the Sabres have very little support in other areas. He still scores slightly below average in defensive impact due to his limited skills in that area, but his willingness to take charge and perform in all areas is all the Sabres can ask from their captain.
4: Artemi Panarin, 92 overall
Driving offence from the wing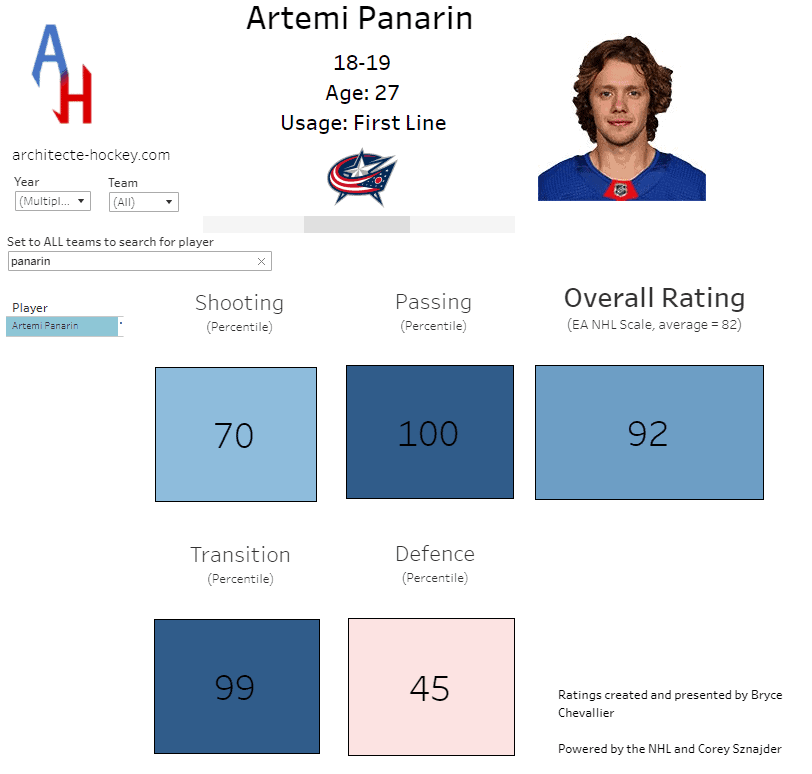 Artemi Panarin has been a gem coming into the NHL as an undrafted player from the KHL, and he has now proven his capabilities with three different teams. He is a rare breed of forwards who can drive play from the wing. The way he does this is with very apparent dominance in transition and as a creator with the puck on his stick.
His three-year style chart shows how he dominates the 3 styles that require passing and skating. A player who can start the transition from deep and split defences with passing or skating options will always be rare. Panarin's ability to do this and also run cycles to drive offence with his passing and space manipulation then becomes elite. He doesn't focus on off-the-puck defence, but a player who so effectively brings the puck towards the offence will be valuable as the opposition can't attack while he's doing his thing with the puck.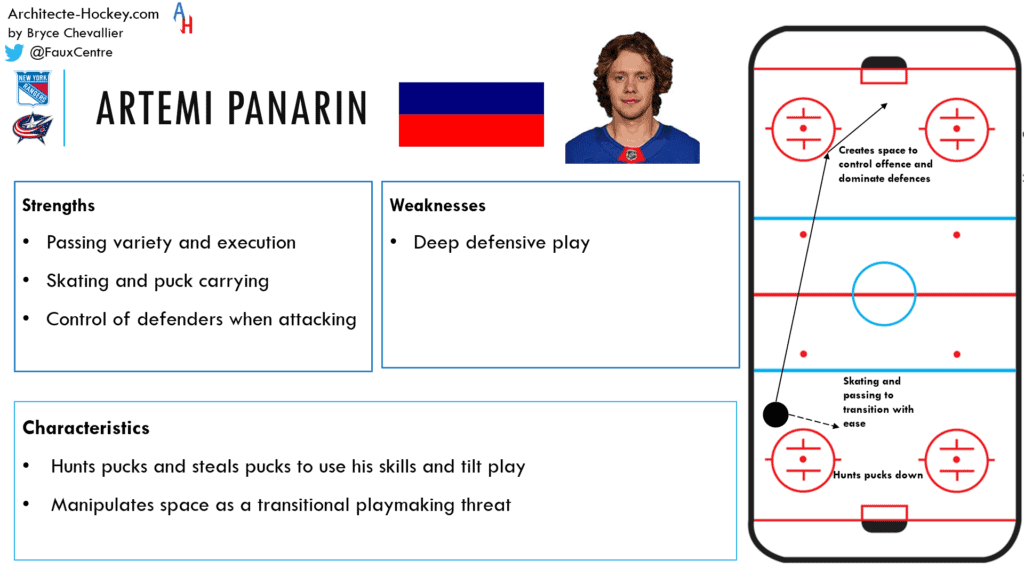 3: Connor McDavid, 93 overall
High-speed threat
You might be surprised to see McDavid not sitting in the first place so this is a good time to remember to look at the overall rating and realize that these players are basically tied. It is no surprise why McDavid scores such a high rating and is the gold standard to most fans watching. He scores basically perfect in all the areas that are noticeable: shooting, passing and transition. His defence is where his rating takes a hit, and it has affected his output too. Over these past three-seasons, McDavid has not brought the Oilers to the playoffs and has only had a third-place finish for the Hart Trophy. Underwhelming for the best player in the game.
His three-year style chart demonstrates his talents as the Oilers main puck carrier, playmaker and shooter. However, unlike other great passers such as Panarin, Kucherov and Draisaitl – McDavid doesn't use this skill to build-up play from deep. This even further shows his lack of presence in the defensive zone, even as an attacker.
However, once he gets the puck, all you can do is pray for the opposition as they watch his skills go at speeds that nobody can keep up with.
2: Nathan MacKinnon, 93 overall
Agility to beat defenders
Taking a look at it, MacKinnon and McDavid are very similar players with very similar ratings. My model nicely matches the Hart voting between the two-player since 2017-2018 with MacKinnon as slightly better ranked. Despite the lack of silverware, these have been three outstanding seasons for MacKinnon. In fact, it's very rare for a player to be so dominant without being rewarded.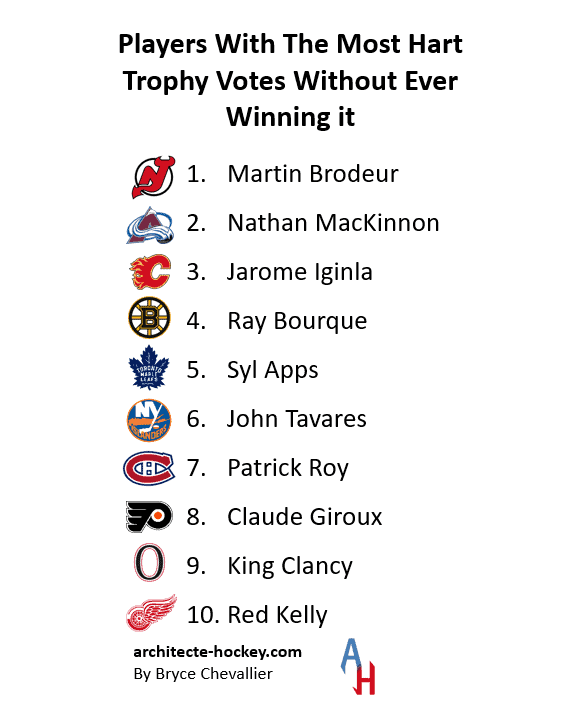 His three-year style chart is nearly identical to McDavid, with a very slightly better score as a build-up passer. This most likely explains the difference in defence. Neither excels at it, but MacKinnon's presence in the d-zone alone is enough to have almost an average impact.
What makes MacKinnon ultimately stand out is his agility on the puck. As he's gotten more comfortable with his skills, he always looks to have the puck and actively take on defenders. This makes him hard to stop and transcend into a game-breaking attacker.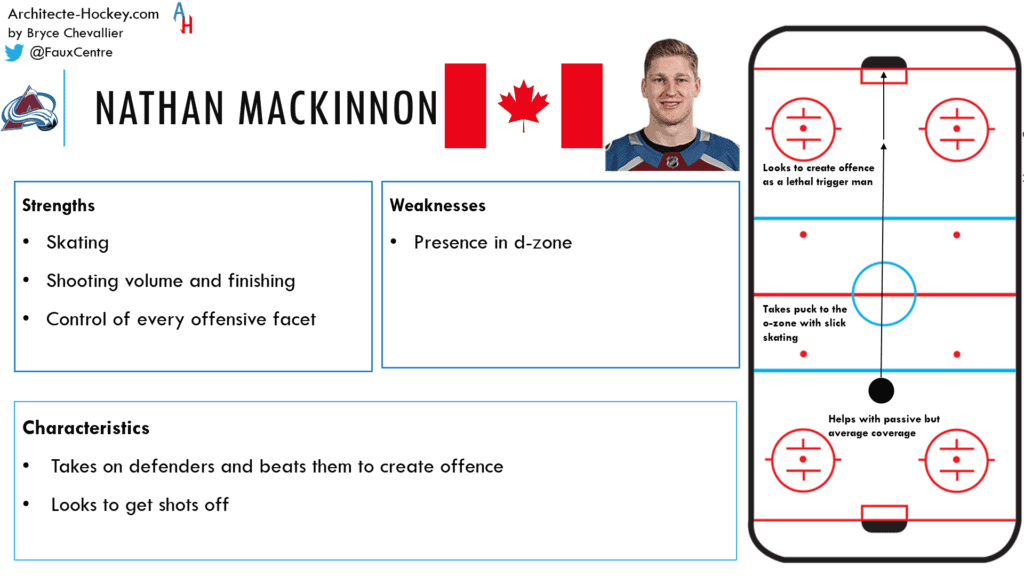 1: Mark Stone, 94 overall
Everything from shutting down to creating: A complete player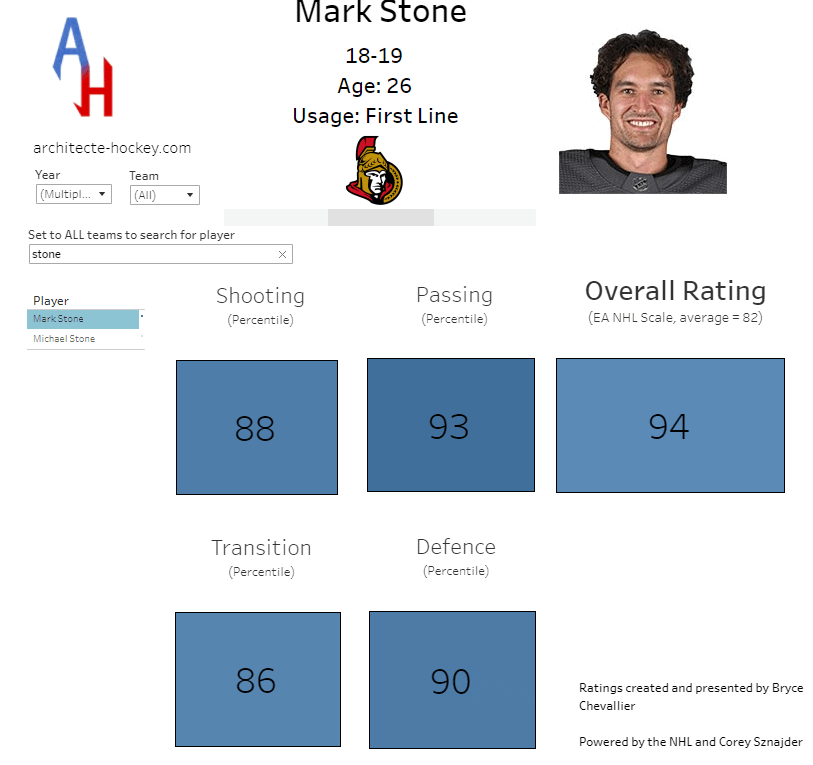 Mark Stone is probably the favourite player of most analytical models. The newly named captain of the Golden Knights is simply unbelievable in every aspect of play. His defensive impact is strong, and he does so in a very active way by winning battles and stealing pucks. In all-three zones, Stone is a puck acquisition monster.
His three-year style chart shows that once he shuts things down defensively, he can use his passing to build-up the attack from deep and transition before becoming the main playmaker in the o-zone. His decisions in all-three zones are incredible and allow him to dictate play in most cases. He doesn't shoot nearly as much as he could but the chances he creates while on the ice are abundant. With Stone as their leader, Vegas will continue to dominate games and bury teams into their own zone. If his teammates improve their finishing, Stones' creativity may see his point totals skyrocket. This would ultimately bring in ridiculous production for the Selke nominee.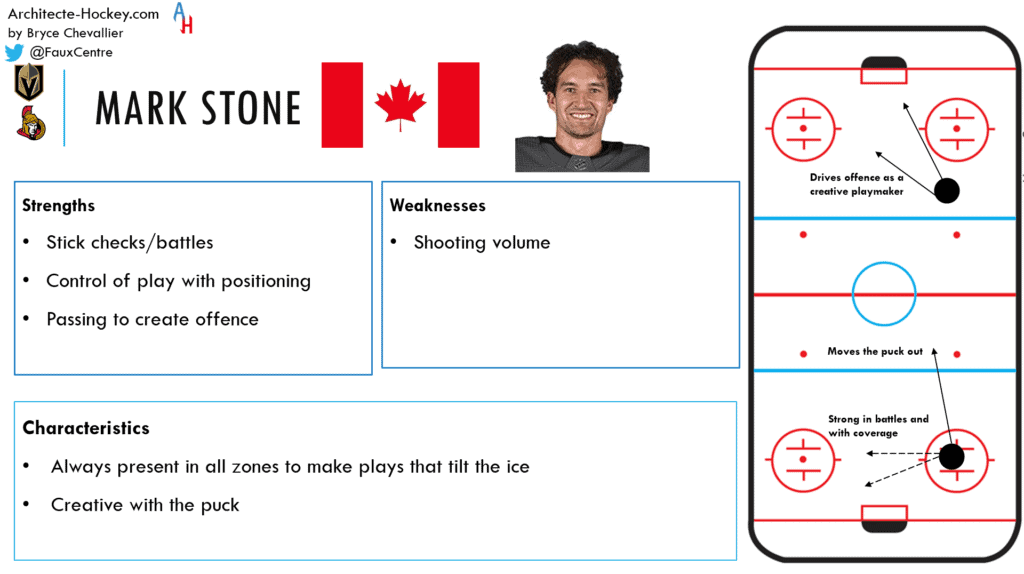 Read about the top defencemen here.
Finally, I will leave you with a reminder to sign up for the newsletter to never miss a post and this link to support me and get access to all the data and stats on this website. Signing up as a patron will give you access to all the stats from the model used in these posts and my future work. There is also a new deal to sign up for a yearly subscription and save 16% off the base price.