I have recently developed a rating system for players using a combination of NHL play by play statistics and the phenomenal hand-tracked data of Corey Sznajder. The idea was to replicate the ratings seen in EA Sports NHL video games. A scale of 0-99 with most NHL players averaging to a rating of 82 is used. I came up with as many areas of the game I felt could be explained with a combination of the stats I had available and turned them all into theses ratings.
With that being said, lets have a look at the best players in each area from the 2020 Stanley Cup Final.
Shooting
Finishing
Kucherov 90
Killorn 90
Johns 90
Kucherov and Killorn are clinical shooters and Dallas will have to keep them from shooting as they are threats every time they get a chance. Dallas, on the other hand, are behind in this area. Johns scores at a high rate for a defenseman but their true threat will be Gurianov who sits at 88.
Volume
Kucherov 89
Seguin 89
Gurianov 89
Kucherov not only has the clinical release but he also shoots a lot. A dangerous combination. Dallas once again have Gurianov as a real threat and Seguin could be dangerous if he gets hot.
Shot Location Quality
Heiskanen 93
Coleman 89
Lindell 89
This goes to show Dallas' active defensemen on the attack, they get up for high-quality shots relative to their position. Coleman will be trying to get to the tough spots in front of the net for the Bolts.
Overall Best – Nikita Kucherov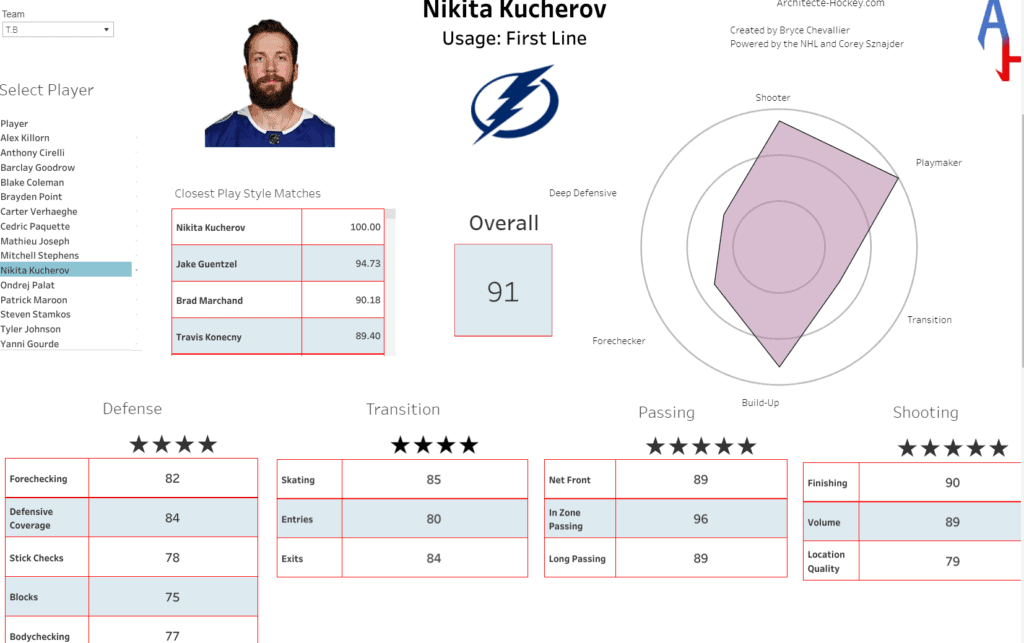 Passing
Offensive Zone Playmaking
Kucherov 96
Point 94
Sergachev 89
Here we can see Tampa's strength – passing in the o-zone. The duo of Kucherov and Point are so dynamic in this area and their defence can contribute to the attack as well.
Net-Front Playmaking
Verhaeghe 90
Kucherov 89
Coleman 87
Once again, Tampa are the dominant playmakers. We continue to see Kucherov's outstanding playmaking and Coleman's net-front presence in dangerous areas.
Stretch Passing
Kucherov 89
Sergachev 88
Verhaeghe 88
Once again, the same best passers come through and it's all Tampa when it comes to moving the puck
Overall Best- Nikita Kucherov
But we just saw Kucherov, so here's the best defencemen passer – Mikhail Sergachev
Transition
Skating
Klingberg 93
Point 93
Heiskanen 91
These three are going to be fun to watch. This highlights just how mobile Dallas' back end will be and how important they are to their transition on the counter-attack. Point will also be a skating threat, as I'm sure most who watch him would have noticed.
Entries
Verhaeghe 93
Heiskanen 91
Gurianov 90
Seeing Heiskanen is this category only furthers the proof that Dallas use their defensemen as rovers to carry the puck into the zone. Tampa will have to keep that in mind when defending the entries.
Exits
Klingberg 96
Johns 92
Palat 90
Klingberg scoring an incredible 96 shows his importance to the Stars' buil-up play. Tampa, are much more likely to build-up with their forwards such as Palat.
Overall Best – Brayden Point and Miro Heiskanen
Two players really stand out. One from each team and each position.
Defence
Forechecking
Gourde 92
Benn 92
Gurianov 89
Both these teams are full of great forecheckers. Gourde and Benn will be fun to watch as two of the best in the league. Winning the battles on the forecheck is going to be key in this series and these guys are going to want to bring the physicality.
Rush Defending
Cernak 90
Lindell 88
Bogosian 87
Having defensemen that can build-up is great, but defending the blue line is also important. This is where Lindell is important to the Stars as a backbone. However, the Lightning also have big solid defencemen to do that job.
Stick Checks
Gourde 90
Dickinson 90
Hedman 89
Once again, we see an attribute that makes Gourde such an effective forechecker, the ability to strip pucks off opponents. Dickinson will look to do the same for Dallas while Hedman will be a troubling presence for Dallas attackers.
Bodychecking
Schenn 99
Johns 92
Paquette 91
I mentioned that forechecking will be important, but it will also be tough with one of the best hitters in the league, Luck Schenn on the boards. Dallas have their own defensive threat on the walls in Johns. However, if a team can escape the hit, time and space to make a play arises so both teams will have the ability to turn this strength into a liability.
Defensive Awareness
Paquette 89
Killorn 89
Dickinson 89
(top defencemen: Heiskanen and Shattenkirk at 87)
Most successful playoff teams have defensively smart forwards. This is once again seen here as the forwards are likely to be making smart plays throughout this series.
Shot Blocking
Paquette 91

Dickinson 89
Palat 88
(top defencemen: McDonagh 87)
Shot Blocking is controversial. Lots of players are great at blocking shots only because they get pinned in the zone. However, these forwards are also smart defenders. This once again goes to show Paquette's and Dickinson's value to this team as great defensive presences from the attackers.
Overall Best – Jamie Benn (forward), Jamie Oleksiak (defender)
I separated this one into forwards and defenders because of the different defensive impacts. Jamie Benn will be key as he brings quality on every one of these defensive areas.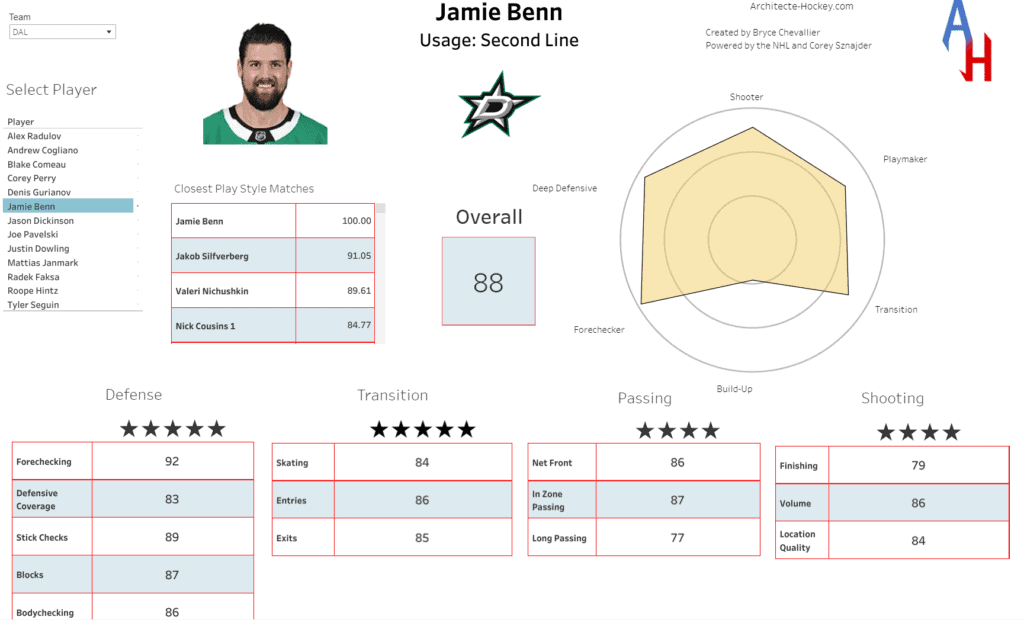 Finally, The Best of The Best
Hedman 93
Kucherov 91
Point 91
Heiskanen 91
These four players are the ones who sit at above 90 overall and will be relied upon as big impact players for their teams. Hedman didn't show up as a leader in any of the individual categories but put it all together and he's a monster.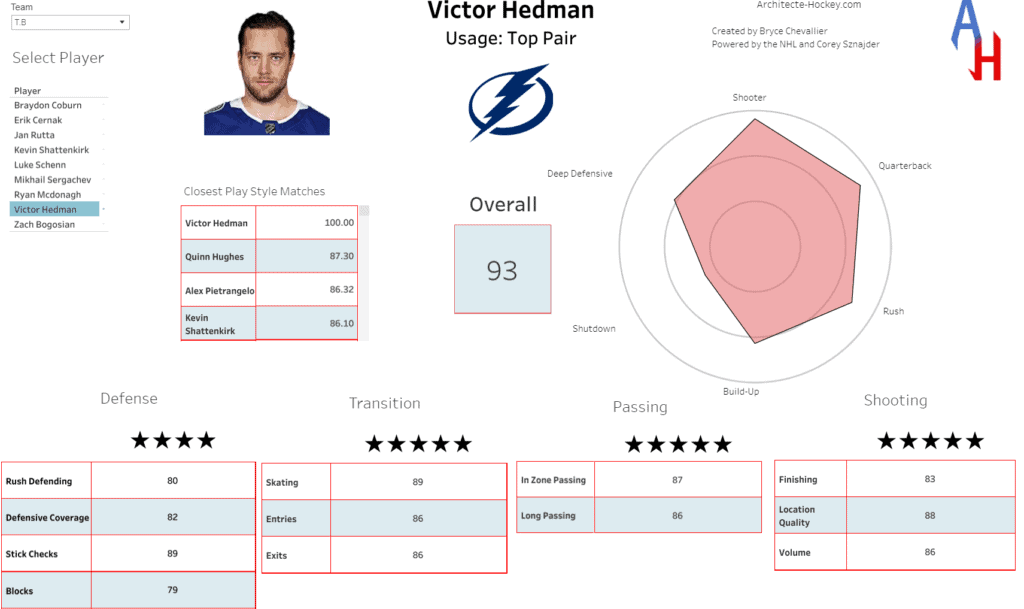 Access to the data
Finally, I will leave you with a reminder that all of this data, the player profile cards and more for the entire league are all available on this website for just $5. So if you're curious about a player or your favourite team, click here to join now. This is a new website for me and I'm very excited to continue to develop new stats to understand the game and write analysis posts going forward.
Enjoy the Finals.