The six factors found are different for forwards and defencemen as they were separated in the analysis. It is also important to note that I came up with the names but they can be interpreted differently. They are defined as follows:
1. High Volume Shooter
This factor is pretty self explanatory. It represents the defenders who help generate direct offence from the back with lots of high quality shots . The stats highly describing this category are individual shot attempts, shots on goal and expected goals. Having one of these players on your blue-line can be a great way to create a multi-dimensional offense, but if it's the only source of attack, it can be easily stopped. Notorious shot taker, Dougie Hamilton, fits the description like a glove.
2. In-Zone Quarterbacks
These players are the backbone of the attack in the o-zone. They play as supporting players that contribute to keeping o-zone play alive with many passes. The stats describing this category are shot assists, notably primary ones and cycle plays. Passes after an entry and high-danger passes do help too. A player who has demonstrated his ability to pull strings on the attack in his rookie season is Quinn Hughes.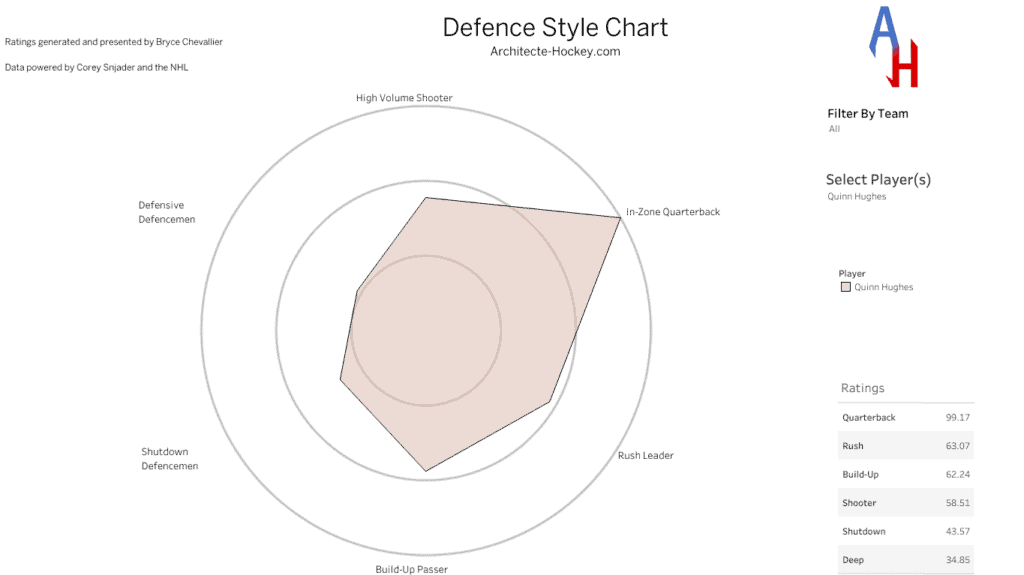 3. Rush-Leaders
The rush leaders tend to spring into the attack by leading the transition from the back. A player who does this well can break the opposition's neutral zone forecheck and cause chaos as his team moves into offence. The stats describing this category are zone entries, carry ins, and passes after an entry. Neutral zone assists and transition plays somewhat contribute too. Preds captain, Roman Josi, embodies this role as a rush leader from the back.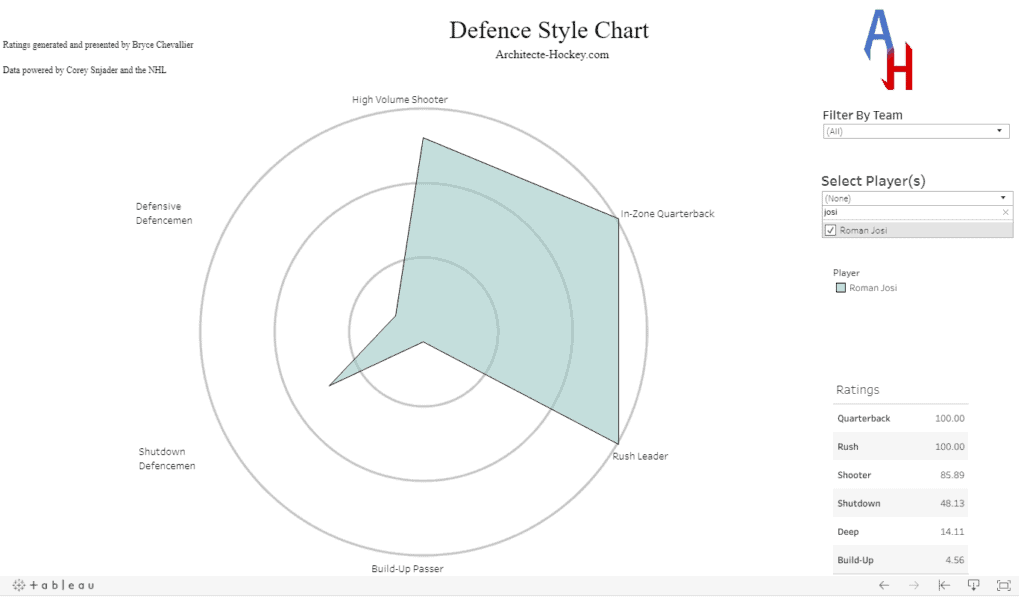 4. Build-Up Passers
The build-up passers are the foundation to any attacking sequence. Right from in their own end, they focus on building up the play ahead of them. This means that long stretch passes are usually in their arsenal. The stats describing this category are transition plays, defensive zone shot assists and breakout passes. John Carlson, a player the Capitals forwards love having, is notorious for setting the forwards up with precise passes.
5. Shutdown Defencemen
The shutdown defenceman possesses great defensive tools and typically has a great gap control. This allows them to complete an important aspect in a defensive sequence – slowing down the oppositions transition into offence. The stats describing this category are entry denial rate and a lack of carry ins against. This means that they can take on forwards 1v1 and block them from entering completely or force a low% play. Jaccob Slavin has become very well known in recent years for his ability to do just that.
6. Deep Defensive Defencemen
This category describes the much more low-key but effective defensive defender. It differs from the previous category as they don't always step up to prevent the transition 1v1 with a player, but they limit chances in more subtle, yet effective ways. The best stat describing this category is a limit of high–danger chances against while they're on the ice. They also seem to be able to make simple exit assist passes and shot blocks help slightly as they usually play deep. Mark Giordano is a great example of a player who doesn't always step up on an attacker, but gets great results.
If you're interested in viewing the results for every player in the league, join with Patreon and access the interactive charts and complete data.