Last time we looked at Barry Trotz' phenomenal Islanders system. Today, we're looking at the Vegas Golden Knights who have been one of the most dominant teams of the playoffs thus far. Their play has lead to them being many people's pick for the Cup but how is this team so good?
Attack and Defend in Triangles
A staple of the Golden Knights is their defensive contribution from the forwards. They play in extremely fluid units that attack and defend together. This means that there is always support to manoeuvre around space without a huge individual effort and they are able to outnumber the opponent everywhere to keep options open.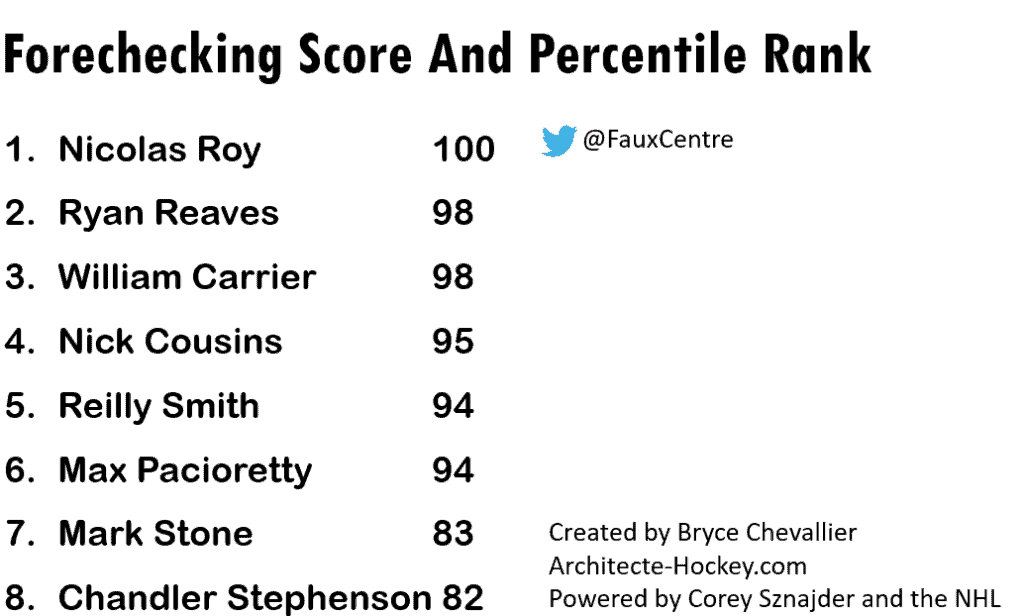 On the attack, the entire unit swarms upwards. This means that they are extra aggressive down low to regain possession before driving towards the net. This is seen in my forechecking model that uses Corey Sznajder's data.
Once they recover the puck, the options are endless. They always have a central triangle formed by the forwards to score and support from the defence to move the puck around up top. Their players are extremely versatile so they can for the most part switch positions and confuse the opposition.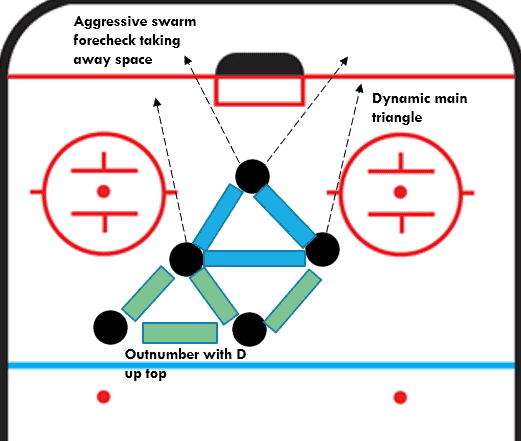 The personnel makes them so dangerous. Beyond a full three lines of very effective forecheckers, Stone and Reilly pull strings in all other positions of the triangle and Pacioretty with Marchessault are dangerous release points to convert the attack into goals. On the point, Theodore is an offensive force that also pulls strings and Schmidt/Martinez are remarkable supporting quarterbacks.
Hard to find a more complete/versatile player than this and he does it all under the radar.

Also scary that Stone is the most similar player to him. That's two dominant engines to run two separate lines for Vegas pic.twitter.com/HiHCIjGBeI

— Bryce Chevallier (@FauxCentre) August 24, 2020
On defence, the system stays versatile. The deepest forward hustles back to create a three-man defence and usually outnumbers the rush. On each line, they have somebody who can fill this role in Smith, Stone, Cousins and Carrier.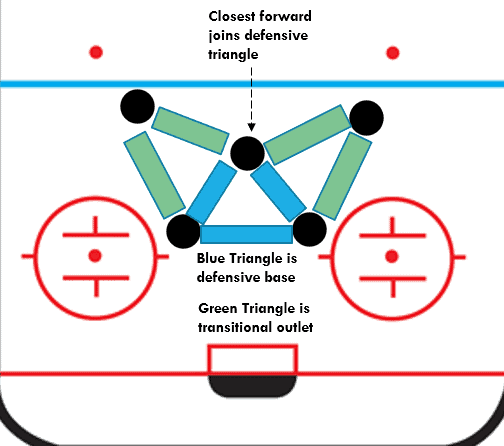 The attributes required to fill this role are defensive acumen of course, but also speed. This is because tracking back is so important and getting there before the opposition is crucial. Especially as the Knights play a high-pressure offensive system, overcommitting and being beat the other way is a potential issue. With adequate speed, they can make up more space in less time to join the defence.
As seen in the tweet above, Smith has 5-star skating and defence meaning he can fill the role. However, the perfect player for this, who has slotted right into Vegas' system is Nick Cousins.
Nick Cousins', great forechecking and passing benefit Vegas' offence very nicely. However, I want to focus on his transitional and deep play. A strong puck carrying game is in the vast majority of cases, an indication of strong skating. Cousins is included here as a very fast player who not only skates the puck up but can also trackback. Combine this with his top of the line deep defensive play and he perfectly fills that spot at the top of the defensive triangle.
Wrap-Up
The Golden Knights play as a tight unit that can control the tempo and space on their terms. Their players are so versatile that they can implement fluid play easily, always maintaining the manpower advantage in all areas they swarm to.
This system can be very overwhelming to play against, but as with all systems, it also has weak points. Next time, we look at potential ways for an opposition team to beat it.
For full access to my model's data including player cards, skill and style rating and other interactive tools, support the website through Patreon