Nashville have been coming off a dominant run that saw them win a President's Trophy and Clarence Campbell Bowl. They are still after the Stanley Cup, but missing the playoffs this year would be a big step back for this group. Arizona, on the other hand, have never had any substantial success but this may be their best squad ever. They've slowly been building up to make the playoffs, and this could potentially finally be their year.
Coaching and Style
Nashville head coach, John Hynes is a weird coach. He was decent in the AHL, and has never won a series with a poor New Jersey Devils roster. It's hard to say what he brings to the Preds exactly as he's never had a clear style. His player usage is very specific, as he does have role players to trust in different situations and to fulfil different tasks.
On the other side, I wouldn't say Rick Tocchet is particularly outstanding for the Yotes either. He has many players that build up from deep and transition well. His system mostly depends on the goaltending, which is very strong but doesn't particularly shine offensively either. In order to work get something substantial, his goalies and his shooters will need to be good.
Goaltending
The Coyotes have has some great goaltending. Both Kuemper and Raanta have been phenomenal, and its been a few years of excellent play. Some argue that Kuemper is one of the best in the league so he should get the nod, but Tocchet can't screw this one up. Nashville don't have many superstar shooters, so giving the Yotes a solid and reliable base should be expected from them.
The Predators, on the other hand, do have a dilemma. Pekka Rinne has been one of the league's best goalie – leading in Vezina votes over the last decade. He is 37 now and has clearly regressed. His dominance in Nashville will be coming to an end as he's replaced by Juuse Saros. Saros has been built up as Rinne's successor for quite some time, and he had a good year. He isn't at the level of Kuemper yet though, so advantage Yotes.
Defence
The Predators have what is probably the best top 4 in hockey. I recently stated that Roman Josi is the best defenceman in the league. This is because he sits at the top of the skating and passing rankings for his position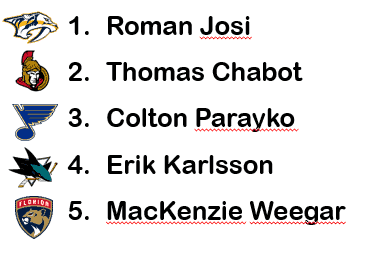 Josi's play is very unique for defencemen and will define this group but he's not alone. Both Ekholm and Ellis are phenomenal players. Before going out with injury, Ellis was one of the most effective passers and shooters in the NHL. Ekholm can also really carry a pairing with his versatile skillset.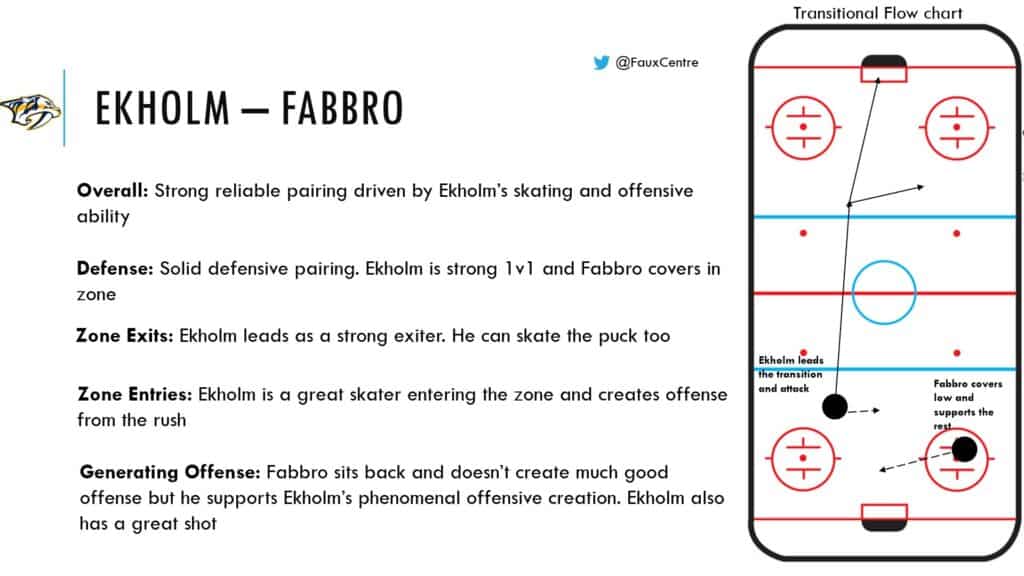 These three alone should be enough to control play, but the rest features players like Yannick Weber, who despite his flaws, is excellent in the neutral zone at skating and preventing the rush.
The Coyotes do have some notable players filling their back end, but they are nowhere near as effective as Nashville's. Captain, Ekman-Larsson will take the big minutes, but he's hardly as good as advertised. His shot and build-up passing can be effective but he's not the impactful top guy he should be. Guys like Oesterle and Demers are good, but only at supporting the attack in the offensive zone. If the Coyotes can't get there, then their impact is minimal. The players who are useful are Chychrun and Hjalmarsson. Chychrun's really come into his own as a shooter. He has a good stick to win possession. The main guy to hold things down, however, is three-time Stanley Cup Champion, Niklas Hjalmarsson. His defensive play is some of the most reliable in the league and he has the passing to support the attack. He will have to be strong against the Preds forecheck if Arizona wants to matchup to the Preds.
Forwards
Nashville's forward group is very deep and built to play in various situations. The top like with Forsberg, Arvidsson, and Johansen. Johansen's play isn't very complete, but he's one of the best playmakers in the world.
He will pair with Forsberg, who's a good shooter with a complete game and Arvidsson who has a goalscorer's touch. This line will need to connect to score the goals. Secondary scoring will also be important and has been a problem. Duchene, who had an excellent run with the Jackets last year will want to fill that void. The Preds also have good shutdown players though. Grimaldi – Bonino – Smith are an excellent line, integral to their depth. They combine, Bonino's coverage, Grimaldi's skating and Smith's scoring to form a complete line and round out their depth.
The Coyotes have had a huge scoring problem. Kessel was added to fill that void, but while he's kept his excellent skating, the rest of his game has really fallen off.
Then there's former MVP Taylor Hall. He is one of the most dynamic skaters in the league and an incredible offensive creator. His finishing has taken a hit this season, but he could easily find the scoring touch again. That would be excellent news for the Coyotes, who have been relying on youngster Connor Garland for goals. The rest of the Yotes forwards do have potential. Dvorak and Keller especially could be huger x-factors as a guys who could breakout.
Key Factors and Final Thoughts
The series has a clear lack of offensive firepower. The Predators have a deep forward group, but too often rely on the defence for offensive creation. They should be able to control play enough to get the edge but if guys like Hall or even Dvorak show up, they could overpower the Preds offence.
If you want full access to the tools and stats, or simply enjoy the content and want to support future posts and analytical research, consider joining with Patreon